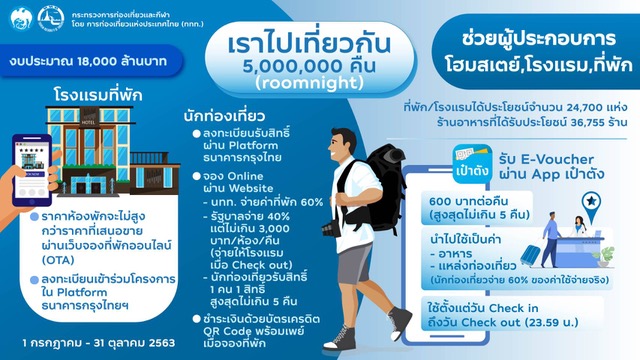 Domestic Travel Promotion - "We Holiday Together in Thailand"
Hoteliers Guru is proud to be chosen to provide Direct Booking Engine Services for Hotels wishing to join the "Rauw Teaw Duau Ghan" promotion "เราเที่ยวด้วยกัน"
As a service partner, our Booking Engine will provide those hoteliers using our platform to can access the special features offered in the program to promote their hotel together with direct payments to Krung Thai Bank.
To participate in the program - hotels need to first register their interest at the website here: https://www.เราเที่ยวด้วยกัน.com
For Hotels that are using a Booking Engine Platform not compatible with campaign guidelines - please consider to use the Hoteliers Guru Booking Engine Service. For more information about how to connect your Hotel, please get in contact with our team :
Bangkok 419 099 8735
Phuket 070 095 7437
or by email :
[email protected]
---
About The Campaign:
The campaign's is designed to help stimulate the local economy and public spending, through domestic tourism. The campaign offers Incentives to the public for visiting tourism destinations in Thailand in order to boost the liquidity for hotels' and other tourism businesses. At the same time, the campaign is designed to support the creation of jobs and the revitalization of the local economy as a whole.
Terms & Conditions:
The government helps pay hotel charges up to 40% of the price of accommodation per room per night - capped at not more than 3,000 baht per room per night;
The Promotion is limited to no more than 5 rooms or 5 nights;
Registration begins 15 July 2020
Duration:
July 1, 2020 - January 31, 2021
Eligibility:
The types of businesses that can participate in the program include :
Hotels with a hotel business license;
Restaurants;
Tourist attractions (listed under the Tourism Authority of Thailand)