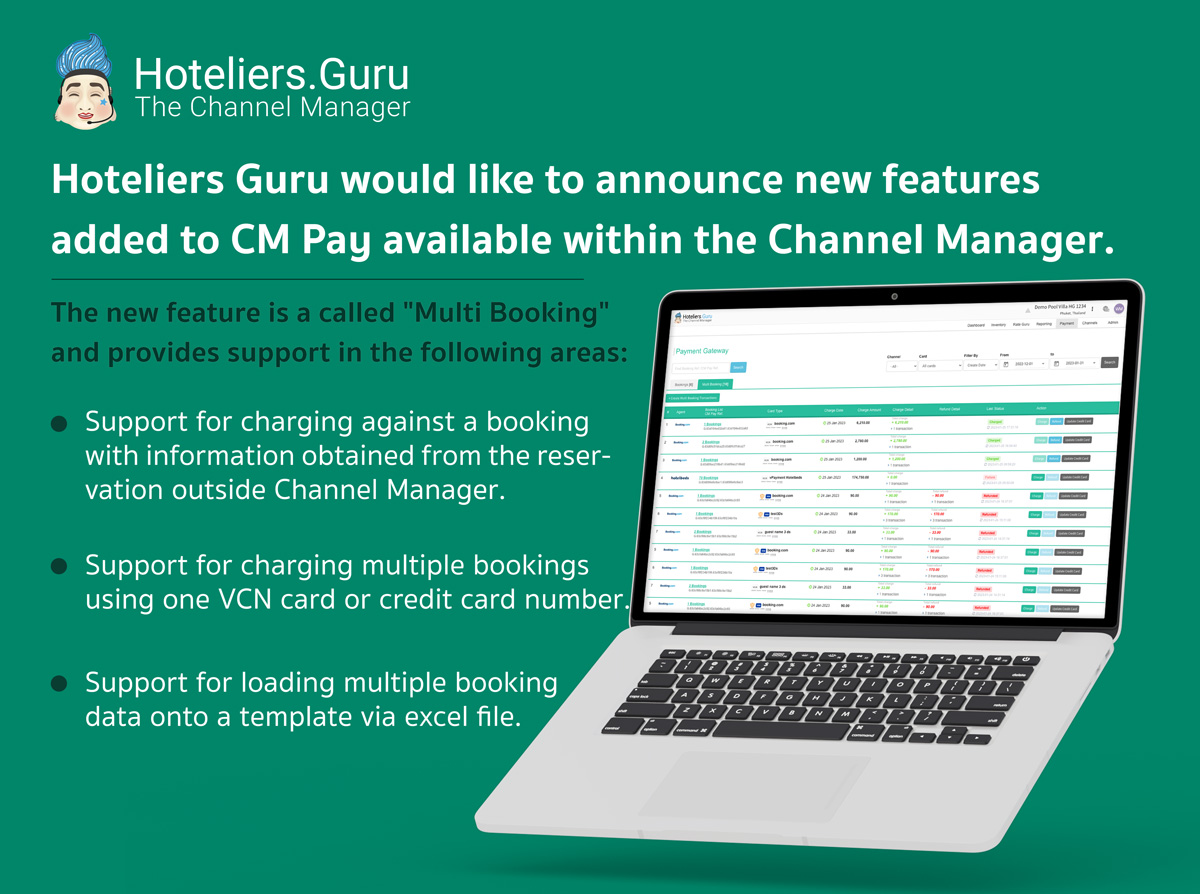 Multi Booking - powerful new feature available to CM Pay users
Hoteliers Guru would like to announce new features added to CM Pay available within the Channel Manager.
The new feature is a called "Multi Booking" and provides support in the following areas:
Support for charging against a booking with information obtained from the reservation outside Channel Manager;
Support for charging multiple bookings using one VCN card or credit card number;

Support for loading multiple booking data onto a template via excel file.


More Information
Case 1 (Bookings - Outside Channel Manager)
Multi Booking in this case is designed to allow the hotel to process the transaction charge against bookings that the hotel does not have booking information from within the channel manager. At the same time, Multi Bookings allow the hotel to process the charge using the information obtained from bookings found in the channel manager but without a credit card number (such as with information provided by an agent)
Here the hotel can process a new charge by entering the booking information such as the booking number etc … one booking per VCN card or credit card number.
Case 2 & 3 (Multiple Booking Transactions)
Multi Booking in this case gives the hotel flexibility to charge multiple bookings per VCN card or credit card number.
Hoteliers wanting to process multiple bookings at the same time can click and download a "Template File" and use this to enter booking information that needs to be charged. (The template is an Excel Spreadsheet which hoteliers maybe familiar with)
This additional feature is useful for charging many bookings in one go rather than one by one.
Aside from either option above - the other feature we've added to CM Pay, includes the facility to charge up to a maximum of 500,000 THB per transaction.
Altogether, these new features will enhance the functionality provided to Hoteliers from CM Pay and we've also ensured that the system remains robust and safe.
If you need any additional information how to maximize CM Pay usage for your hotel or would like to add CM Pay to your Channel Manager subscription - please contact our support team at the following email : [email protected] or [email protected]
Submit CM Pay