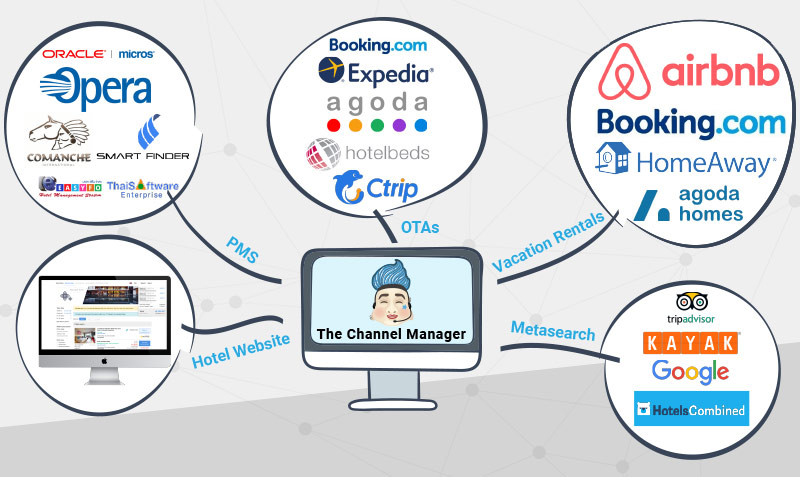 Your Hotel Needs a Channel Manager - Here's Why
WHAT'S A CHANNEL MANAGER
Channel Management Systems have been around for about two decades, mainly for hotels to improve their daily routine of managing Room Rate Inventory with 3rd party online agents.
Every 3rd party agent the hotel uses, will have a proprietary booking extra net, which the hotel needs to manage. The more agents, the more platforms and the bigger the job at hand.
The Channel Manager has become an essential tool for the Hospitality industry, making it easy for hotels to offer their inventory to more agents and wider markets - whilst avoiding both overbookings and rate parity problems.
BEFORE THE CHANNEL MANAGER
It was common for hotels not using channel managers to avoid co-operating with a broad range of OTA's simply because of the extra workload and resources needed to manage their inventory.
Hotels would offer limited room inventory for sale on-line, in order to avoid overbookings and in turn released a large percentage of rooms to their preferred wholesalers and travel agents, rather than maximizing the capabilities of the digital network by offering pooled inventory on a first come first serve basis.
HOW IT WORKS ?
Channel Management puts all the hotels rate and inventory information on to one electronic distribution platform and shares it to 3rd party agent booking websites.
Once setup, the Channel Manager electronically synchronizes the information in real time so whenever a reservation is made on the hotels Booking Engine or comes as a walk-in, through the Property Management System, the Channel Manager automatically updates the inventory to all connected channels.
Meanwhile, when a Booking is made on any of the agent websites' - the information is pushed back to the Channel Manager, which at the same time update the hotels' inventory and shares the data back to connected agents.
Channel Manager's "short-cut" the need to have someone physically do the manual journal entry across one or more extranets'. The system solves the need to balance or mix and match inventory of the on-going pool of available rooms to take account of the evolving inventory of rooms.
Like room availability, the hotel can also make Pricing adjustments to their daily rates seamlessly through the channel manager. In this way, rate parity is no longer an issue. Of course, in case the hotel needs to have a different pricing policy for each OTA, it's still possible to set various rate rules for every connected channel.
YES - YOU NEED IT ?
If you have a small Bed & Breakfast or only a couple of rooms or apartments, and sell your rooms locally without having to use many agents - you'll probably not need a Channel Manager. But, if you have more than that, or several room types, then you should really look at using one. 
To be sure - if you have more than 10 rooms and you're not already using a Channel Manager, you're doing it wrong!  Why? Because it will help you send and synchronize your availability and rates in real time to more Online Travel Agencies than you could do manually. Being listed on several OTA websites should not be only the key part of your Distribution Strategy – it's an essential ingredient you'll need in deploying your Marketing Strategy geared towards increasing healthy on-line Bookings.
It goes without saying, that using a channel manager in your hotel will save you time and money.
BETTER COLLABORATION
The Channel Manager reduces the burden and work load allowing your revenue management and reservations teams to collaborate more freely. It's also the best tool in helping your hotel to execute a sale and marketing strategy easily and with greater clarity.
Let's say that one of your primary goals is to increase bookings and revenue. In order to do this, you need to feed information from your sales network to your reservations team, which may also include a diverse range of reporting data such as booking information and market profiles' from connected agents. Collecting and analyzing this type of reservations data is difficult to source and compile without the help of the Channel Manager. With everything in one place the Channel Manger makes it simple to find out which partnerships are productive and which ones you will keep and which you will end in favor of more profitable options.
Without the Channel Manager acting as a repository of Booking Statistics, it's not going to be easy to get sensitive hotel booking information quickly and will take even longer to compile the statistics into a meaningful representation.
All in all - the channel manager providers better collaboration and execution of your hotel strategy by recording and storing all your booking data and collating it into monthly reports which can be shared between different interest groups as needed. As your distribution network increases, this convenience becomes a vital part of managing and running a successful business.
OVERALL BENEFITS
With telephone and walk-in bookings on the decline and online bookings on the rise, a channel manager places you in the best position to take advantage of the new traveler booking habits. Connect to more online channels, will expose you to more travelers than ever then the more traditional ways of selling your rooms
Given a channel manager displays live rates and availability across all your channels at the same time, and updates itself automatically - you can accept bookings faster and almost eliminate the chance of double bookings. In addition, the data you can analyze from your channel manager can ensure your rates are always optimized and you're using the most lucrative channels.
Without a channel manager, you're forced to split your inventory between channels and risk double-bookings or failing to reach full occupancy. Pooled inventory and automated updates of availability and rates in real time means guests can only ever book a room that is actually available.
A powerful channel manager will provide two-way unrestricted access to hundreds of booking channels where travelers who would never hear of you can now make reservations at your property. It also makes OTAs more likely to accept your listing because they can be sure your inventory will always be accurate.
It may seem illogical but it's true! Many travelers will discover your property though the bill board effect on an OTA, but they want to learn more about you before they book. Often, they will visit your website and then make the decision to book their stay afterwards. Channel Management ensures you have rooms available at all times - no matter where the guests are coming from.
Manual data entry is time-consuming and frustrating, we all know that. If you were to use a channel manager and remove this friction, you'd realize just how much more productive you can be. Anything that has to be put on hold can now be prioritized to improve your business.
Instead of being required to update information in multiple extranets, a channel manager can integrate with your property management system, central reservation system, or revenue management system as well as your booking engine to create a central control system for the entirety of your hotel's operations.
A good channel allows complete transparency of data across all systems and channels, meaning you can use the received information to see which channels or rooms are performing the best. This means you can constantly update your business strategy. Look at reports such as channel yield and channel analysis and your reservation trends to see where things are going right – or wrong!
Quality channel managers are very easy to use and hotels will regularly have multiple staff members using the system. If the main user is going away or won't be available to make updates they can easily mark important dates in the system so everyone is aware if they need to change a rate or a close a room etc. For example, they may mark school holiday periods so rates can be increased during these peak times.
FINAL THOUGHTS
Channel Managers have thus lead the way to disrupt the legacy practice of distribution management, offering a more robust and sustainable solution to the daily challenges facing hotels.
It may come as no that paying a subscription fee for channel management technology and a commission for OTAs, along with any cost of acquisition becomes a costly mission.
However, it's been proven that even a slight increase in occupancy and revenue resulting from the use of the channel manager far outweighs the cost. When it comes to deciding whether your hotel needs channel management software, ask yourself if these 3 basic outcomes are valuable:
1. Significantly less time updating inventory information across multiple extranets;
2. Reduced human error when entering or adjusting rates and availability;
3. Need for a stable, robust distribution platform that enables your business units to collaborate and scale out into a wider market
If any one of these is important in running your hotel, then you should seriously consider the risk rewards of employing Channel Management Technology in your hotel.