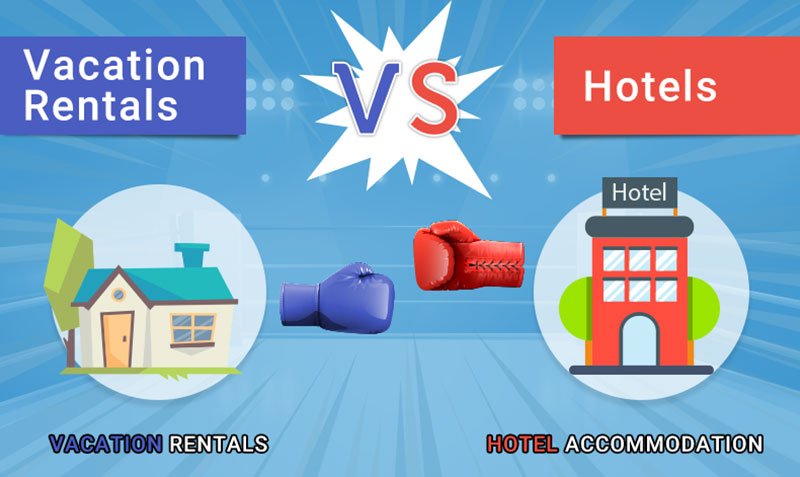 Vacation Rentals Vs Hotels
Before the Internet empowered the world – Vacation Rentals were a family cottage industry. Change began with a website called VRBO in 1996. HomeAway acquired the business in 2006, and not long after Expedia swallowed it up , paying $3.9 billion.
That was in 2016 … Today Airbnb dominates as the biggest name in the business and helped pioneer a new vibe for alternative holiday accommodation, pitching to leisure travelers the concept of short-term rentals using people's homes, apartments and villas – just like a hotel.
The popularity of the new concept of accommodation made the San Francisco-brand one of the fastest growing travel booking websites with a massive 100 million monthly visitors. Today Airbnb has nearly 6 million + listings in more than 190 countries.
Vacation Rentals is a big market and is believed to be worth $100 billion - with the U.S. accounting for just over a quarter of that number. Research Intelligence is predicting the vacation rentals market globally will be close to $170 billion by 2019 and growing.
Short-term vacation rentals have become popular because they offer a whole range of advantages you won't find booking a traditional hotel. This new lodging option gives real alternatives to big name hotel brands and chains, with today"s travelers having more freedom and flexibility in the way they buy their holiday accommodation and experiences.
VACATION RENTALS – WHY SO POPULAR ?
When it comes to the length of stay – research from TripAdvisor shows that 43 percent of travellers plan to stay a week or longer in a vacation rental, while 24 percent intend to stay between one and two weeks. This is much longer than the average hotel stay.
For Hotels on the other hand - 40 percent of business travellers spend only one night (at a hotel) whereas 23 percent spend two nights and 37 percent spend three or more nights.
The number of leisure travellers spending three or more nights at a hotel was even less at just 24 percent. These statistics suggest that when guests choose to spend more time at their destination, there are cost benefit advantages with a vacation rental making them perfect for the Leisure Market who prefer longer less formal holiday experiences.
Short-term Vacation Rentals in peoples homes do provide a wider range of useful amenities for day to day tasks including: free WIFI, a washing machine, dryer, a garden or terrace (maybe even with a jacuzzi), and a full kitchen.
Research from TripAdvisor reveals that 50 percent of travellers choose a vacation rental over a hotel when they travel because of "better amenities," while 94 percent who have stayed in a rented property were satisfied with the experience.
Vacation Rental properties provide their guests more usage space, according to research. The average size of a vacation rental is about 2000 sq feet compared to 400 sq feet or less in a standard hotel room. Ideally this means more space to rest and relax with friends or family and time to explore the local area and a great space to spend "time-in" while you stay in.
Travellers can expect to pay up to 50 % less per square foot than an average hotel room when they book a vacation rental. And, the cost can easily be divided between friends and family, making it a cheaper alternative than pay-per-night rates for multiple rooms at a hotel.
Instant booking services provided by websites like Airbnb, HomeAway and Bookings dot Com make it easier for travelers to book a property. You no longer have to visit a home owner's website to request a reservation and wait for a response about availability. These popular short-term Vacation Rental platforms, are in some cases even easier to navigate than hotel websites and allow you to explore nearly 5 million listings.
Vacation Rentals in particular are thought to be the domain of Millennials - aged 25 to 34 (Travelers of the Future).
With vacation rentals, in cities and resorts across the world, homeowners attract business and vacation travellers who are looking for something that's different from a conventional hotel room and with less formality about how many adults or children can occupy rooms.
HOTELS CAN BECOME RELEVENT TO VACANTION RENTALS BUYER?
With the Vacation Rentals market of moving upwards of $ 200 billion and 100 million strong in website visitors (Airbnb alone in 2019) it only makes sense for hoteliers to consider targeting the Vacation Rentals world.
And here's how to start
The saying goes, "You never get a second chance to make a first impression."
Therefore – Hotels first need to understand why people are choosing this new way to travel. What's appealing? For hotels, getting the right inventory or offer out into the market which clearly differentiates the hotel product from the Vacation Rental product is a good start.
For Example - there are many hotels that have "suite" room inventory and most of these properties also have the ability to convert them into a multi-room suites. Yet some hotels continue to lose families and group vacationers to short term "whole home" and "apartment rentals" simply by not recognizing their demand potential.
Outstanding service and personalized touches are a great way to stand out from the crowd. AirbBnB has a reputation for being responsive to queries or issues, and hotels already have the face-to-face advantage. Hence, it's essential that hotel staff are consistently committed to exceptional customer service and standards of excellence.
Airbnb hosts are often homeowners who have chosen to live in their location. They come equipped to share their love and knowledge of the area with guests. There's no reason hotel staff can"t hold the same knowledge or enthusiasm for local happenings. Guests are looking for a unique experience and any hidden gems you can help them discover, will reflect favourably on your property.
Hotels can replicate these local and cultural experiences by changing up the room options available to guests. Differentiating the decor, providing a stocked kitchen and offering alternative amenities can draw attention to the changing needs of travellers.
Guests love amenities – such as: breakfast, robes, free WiFi, and more – and especially when you localise your offerings. Include resource guides or partner with local vendors to give coupons or discounts to your guests to help them experience your city better and more affordably. It may also be beneficial to offer transportation like free bikes and maps to your guests so they can explore the city on their own.
If you have an on-site restaurant, you're already a step ahead. Yes, Airbnb rentals come with kitchens but how many of your guests would really want to cook while on vacation?.
Showcase a menu that includes local dishes or regional ingredients to appeal to guests wanting a local dining experience or point them in the right direction of restaurants that are favorites with people that live in your city.
VACATION RENTALS vs HOTELS – WHO WINS ?
Ultimately, the Consumer or Travel Buyer.
Considering the factors mentioned, it's hard to see how Vacation Rental Properties could lose-out to hotels. For one thing it's a new market segment that differentiates itself from traditional hotels.
For now Hotels' need to reckon with and acknowledge that Vacation Rentals are here to stay.
The Hotel option will remain and work better whenever travelers need full service amenities, such as dining options, or housekeeping staff to tidy up and even just for the room service. And this is the main reason why hotels will appeal to the Corporate and Business Traveler more often then not.
In Thailand, Hotels will need to be adaptive and open to the evolution of travel buying. First and foremost to recognize the market is evolving and second is that another segment probably already exists for buyers as they travel through their journey planning / buying process.
It's up to the hotel to pitch and fine tune or rethink what's already on offer and re-configure products or service category's or even develop new standards of service to become effective as an alternative of the Vacation Properties advertised on Airbnb, HomeAway or Booking dot Com.
This will include updating website platforms, and Social Media (Blog Posts) as well as taking some of the traditional hotel room inventory and reconfiguring it to be attractive for Vacation Rental buyers.
Hotels need to also consider listing their product and services on websites like: Airbnb VRBO or Home Away which directly pitch to the Vacation Rentals buyer.
Either way - for hotels the future is bright and with the market for Vacation Rentals counting upwards of $200 billion, it makes sense for hotels to adapt and become ingenious about the ways of pitching the hotel product to Vacation Rental buyers.
---
With the digital economy empowering people to be more selective and discerning about what they want from travel - the evolution of choice and the way we buy our accommodation and travel experiences will forever change. The change provides us with better options for our holiday experiences and move us from away from traditional hotel stays and into the realm of Vacation Rentals and perhaps the hybrid hotel of tomorrow.
The typical travel buyer no longer fits one profile and its reflected in their purchase habits. What this means for Hotels and the Vacation Rentals Industry, is that these folks may favor a hotel today but might also choose a vacation home tomorrow.
Hotels can open up their marketing and sales channels to the new opportunities for vacation home holiday experiences with the help of Hoteliers Guru. Together with Airbnb, we have one of the best resource partners for your hotel to work with and through our recent certification and integration (from our Channel Manager) – your hotel can connect to the new world of Vacation Rentals effortlessly and easily though the channel manager and with the help of the Airbnb network.