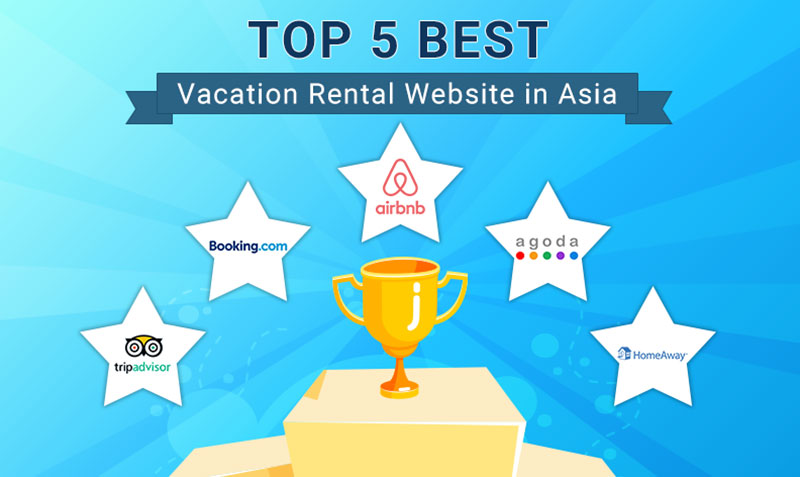 Vacation rental website - Which is The Best Option
If you've already done your research about how to run a vacation rental, invested in the right furniture and amenities and have plan for cleaning and guest support. … Now, it's time to consider how get bookings?
The listing sites you choose can have a significant impact on your success. It affects your costs and can affect your ability to generate bookings.
But which site should you choose ?
To make it easier we've research the main Vacation Rental Websites in Asia and see how they stack up.
1. Airbnb

2. HomeAway/VRBO

3. TripAdvisor/Flip Key

4. Booking.com

5. Agoda Homes
Airbnb
Owner Fee: 3% booking fee.

Guest Fee: Variable 0 – 20 % fee per booking (Average 13 %).

Monthly Traffic: 80 million visitors.

VALUE PROPOSITION :
Airbnb continues to prove it's a force to be reckoned with and with 80 million monthly visitors (January 2018) it leads the pack – especially for listing that on short-term rentals.
The low 3% owner booking fee makes it an affordable choice for owners and with the volume of traffic it receives, Airbnb is a listing site owner's will need to consider. In fact, if you're not on the platform yet there's a good chance you're likely to loose bookings.
But the flip side is that Airbnb's charges a guest fee which is a drawback to full steam ahead.
The combination of commission and fees can sometimes run up to as high as 20 % of the booking overall and whilst it won't impact your bottom line, the higher price can detract from your long term ability to new attract bookings.
HOME AWAY (EXPEDIA) & VRBO
Owner Fee: $499 annually or 5% per booking + 3% credit card processing fee.

Guest Fee: 5-15% per booking.

Combined Monthly Traffic: 40 million visitors.

VALUE PROPOSITION :
Boasting a combined monthly visitor count of over 40 million, HomeAway and VRBO are great choices for owners of traditional vacation rentals. They focus exclusively on "whole home" rentals so they're attracting travelers who aren't interested in sharing space with others. Both sites are under the umbrella of the Expedia Holding group, and when you list on one, you get the added benefit of being listed on the other.
With HomeAway and VRBO, you have the choice between a subscription model or a pay-per-booking model. The subscription model costs $499 per year and covers all the bookings you make on the platform. With the pay-per-booking model, you pay 5% of every booking to Home Away and VRBO The guest fees range is lower with HomeAway and VRBO than Airbnb, but it's still something to factor into your analysis.
TRIP ADVISOR & FLIPKEY
Owner Fee: 3% per booking.

Guest Fee: 8%-16% per booking.

Monthly Traffic: 145 million visitors.

VALUE PROPOSITION :
TripAdvisor and FlipKey operate on a pay-per-booking model with the same owner fee as Airbnb, 3%.
The low cost makes the sites an affordable choice for owners, but not necessarily a great choice for guests.
TripAdvisor and Flip Key make up for their low fees by charging the traveler a premium. The variable 8 to 16% guest booking fees are one of the highest of all sites (in this comparison) with a median of 12% per booking.
TripAdvisor's 145 million monthly visitors are certainly impressive, but note … that a lot of the traffic is focused on "other" travel-related services such as: reviews, hotels, and car rentals.
But TripAdvisor can be worth the investment for two reasons :
This means you're getting "two bites of the cherry" – a larger, less- targeted (Trip Advisor) audience, and a smaller, more-targeted (FlipKey) audience.
From this perspective, it makes TripAdvisor well worth the investment because it promotes vacation rentals to travelers searching for hotels.
BOOKING DOT COM
Owner Fee: 15% per booking + 3% credit card processing fee.

Guest Fee: 0% per booking.

Monthly Traffic: 448 million visitors.
VALUE PROPOSITION :
Because Booking.com is the most-visited travel site in the world, posting your listing on their platform is a great way to get your property in front of more people. It charges no additional fees to travelers, and it provides the lowest price for guests, which are great perks.

Booking.com doesn't have a credit card processing fee, but it requires that owners have a secure merchant account, such as VRP or Square, which usually comes with an additional 3% fee.
Higher owner fees.

Mandatory instant booking.

The site isn't exclusive to vacation rentals.
Booking.com also provides hotels, flights, vacation packages, and transportation in addition to vacation rentals, so there's no guarantee those visitors are looking for a short-term vacation rental.
That's why we're not quite persuaded of the return on investment with Booking.com , plus this platform tends to be much more popular outside of North America.
AGODA HOMES (NEW)
Free listings, - No Fine Print.

24/7 help in the user's language.

Monthly Traffic: Approx. 60 million visitors.

Net Rates: The Host enters the price they want to earn and pay No upfront commissions*
*Agoda marks-up the listing by a percent commensurate to similar listings, which the traveler pays at the time of booking. (typically 6 - 12%)
VALUE PROPOSITION :
Agoda is one of Asia's largest OTA's and with Agoda Homes, they offer some 700,000 property's in over 50 countries.
Agoda Homes list only the entire apartment, bungalow, or villa, that's listed by the homeowner (host) which also means the host will not stay in the home at the same time as the guest. The host simply facilitates the check-in/out process, and can provide local contact points for recommendations to ensure a quality stay.
Agoda Homes offer hosts the full control over listings which include: price, availability, cancellation policies, etc… Payment for bookings made on the platform will be collected at the point of booking and paid to the host 24 hours after guest check-out.
Agoda Homes also does not place restrictions on listing with other sites.
FINAL WORDS :
The cost differences between HomeAway (VRBO), Airbnb, Booking dot Com etc … are slim and more so when considering all the "other" elements going into listing a property for rental. That's why a better strategy is to prioritize on getting your properties in front of as many travelers as possible.
After-all, if you really want to make money, your focus shouldn't be on picking the platform that saves money – but one that gets you more bookings. The more bookings you make, the more income you'll earn. It's as simple as that.