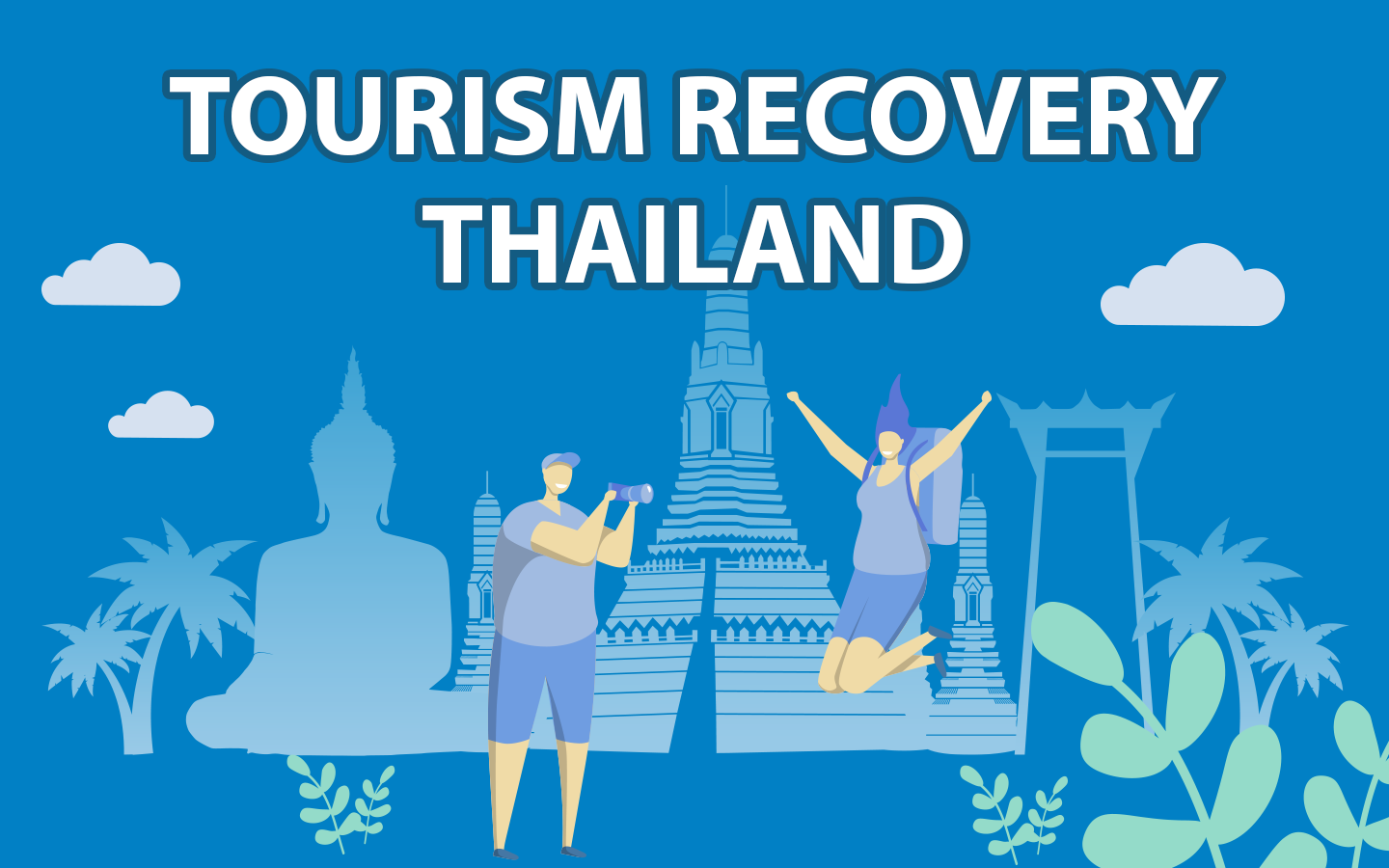 Tourism Recovery Thailand
Covid 19 ravaged the tourism industry for over 2 years. So it came as a relief when earlier this year in June - the Thai government removed covid restrictions making it easier for travelers to enter the Kingdom. Today anyone traveling to Thailand no longer needs to provide proof of health status and vaccination prior to departure.
The policy shift was a major change from the confusion surrounding entry requirements, clearing the way for tourists and in July alone, the number of international visitors jumped by over 6,000 percent to 1.2 million.
Having made it easier to get here, government spokesperson Anucha Burapachaisri - in a statement to the press in September said that the government expects to earn 2.38 trillion baht in tourism revenue in 2023. It's hoped tourism arrivals will jump back to 32 million, or around 80 percent of their level in 2019, the last full year before the pandemic.
Anucha also said the government is targeting between 8 and 10 million visitors for 2022, which marks a massive increase on the 428,000 visitors who made it here through the country's maze of vaccination, visa, and quarantine requirements in 2021.
ON THE GROUND PERSPECTIVE
As a local resident of Phuket, it's nice to see recovery, but things can get chaotic in the new normal. Since July, with the easing of Covid restrictions we've seen a slow but steady increase in the number of tourists plying the streets in and around popular tourist beaches. The number of tour buses, cars and motorbikes on the road has increased and so has the traffic.
Restaurants situated along the high street in Patong, Karon and Kata are markedly busier and prices have gone up by 20 – 30 % and in some places 50 %. Shops including souvenirs, clothes, and convenience stores which closed during Covid have sprung back to life. With the prospect of easy money from tourism, there's more people on the street touting tours, tailoring, and taxi services with prices to match the pre-covid times. Massage Shops mothballed during the two-year pandemic are spruced up and have a new lease of life and the bars along famous Bangla Road are once again playing loud music.
Cruise ships have also returned and not only to Phuket but Samui also. In Pre-pandemic 2019, Phuket welcomed 154 cruise ships carrying a total of 485,000 passengers and crew. Lately the first Cruise to arrive in 2022 was "The Genting Dream", operated by Resorts World Cruises, from Singapore bringing a total of 3000 passengers.
WHO'S LEADING THE WAY:
Phuket is bouncing back – having welcomed more than 2.3 million visitors in 2022 with earnings of at least 127 billion baht in revenue.
From Jan - Oct 2022, Phuket has been the top destination in Thailand in terms of both tourist arrivals and earnings and has welcomed two and a half times more foreigners than Pattaya and earned ten times more revenue.
TOP 3 DESTINATIONS – Jan >> Oct '22:
Phuket – 2.4mn foreign arrivals – B127 billion in earnings;
Chonburi – 975,026 arrivals – B13bn in earnings;
Suratthani – 606,812 arrivals – B7bn in earnings.
PHUKET HIGHLIGHTS – Jan >> Oct '22
The island welcomed 475,654 foreign visits. The top-10 markets are as follows:
Russia – 130,016 visits;
India – 53,934;
Singapore – 29,483;
Australia – 25,475;
UK – 25,390;
Kazakhstan – 19,515;
Germany – 19,473;
Malaysia – 18,025;
South Korea – 13,380;
USA – 12,467.
For Pattaya – K Thanet Supornsahasrangsi, president of the Tourism Council of Chonburi, said that Pattaya has seen a 60–70% room occupancy rate for New Year's Eve, an increase compared to the rate of 30-40% the city saw during the height of the pandemic.
He said that since curbs were lifted, more airlines have launched new routes to U-tapao airport in Rayong, including Bangkok Airways, Thai Vietjet, Thai AirAsia and Thai Lion Air, attracting more visitors...
BUSINESS SENTIMENT - 2023:
The Hotel Business Operator Sentiment Study, conducted in December 2022 by the Thai Hotel Association and the Bank of Thailand , showed that most hotels expect their revenue to rise by 10 - 30% in 2023.
The study involved 95 hotels and showed that most operators expect to welcome more guests this year. The forecast seems feasible because the average occupancy rate in December was 63%, up from 59% in November. It's possible for Thailand to expect more arrivals to continue going up during the high season, which runs from November to March.
Thailand's tourism sector is expected to revive back to pre-covid levels in 2023, prompting the Tourism Council of Thailand to come out with projections that the country's tourism numbers could return to near 40 million seen before Covid-19 started.
TOURISM INFLUENCERS – 2023
The two countries expected to contribute the most to the recovery in 2023 include Russia and China.
RUSSIA – TO THE RESCUE
Russian tourists are already here and are once again traveling in large numbers. Thanks to chartered flights and access to credit cards issued outside the country, Russians have been able to get around payment difficulties, turbo-charging the recovery landscape.
More than 44,000 Russians have visited Thailand in October 2022, compared with less than 10,000 in each of the months following the start of the Ukraine war - according to data from the Ministry of Tourism and Sports.
The resumption of direct flights between Moscow and Phuket will undoubtedly lure more Russians, according to Thai officials. Unlike the situation with flights out of China - chartered flights operated by airlines such as Azur Air and commercial flights from flag carrier Aeroflot have been bringing people from Moscow, Novosibirsk and Vladivostok to Bangkok and popular beach destinations such as Pattaya and Phuket, according to the Phuket Tourist Association.
CHINA – HIGH HOPES
From January 2023, China said it would scrap the requirement for inbound travelers to quarantine, making holidaying aboard easier. The change is expected to boost tourism across the wider region heavily dependent on Chinese travelers.
After scrapping quarantine requirements, online travel sites reported an immediate spike in search volume and online bookings. One platform - Qunar, says it saw a seven-fold increase in flight searches within 15 minutes, with Thailand, Japan and South Korea among the top destinations.
With China now getting rid of its 'Zero Covid' policy and allowing freer travel from the 8th of January, it's expected as many as 25 million tourists could be heading into Thailand in 2023 (up from 11 million seen in 2022)
Notwithstanding this positive outlook some constraints will be the ongoing rate of Covid infection in China. At the start of 2023 - with the infection rate at levels comparable to those seen around the world at the end of 2021 and early 2022 (during the initial Delta outbreak) it's dangerous to be overly optimistic about China's recovery. Suffice to say - if the situation doesn't get any worse 2023 looks good !
Other constraints, include flight capacity into South-East Asia. At the moment overall capacity is down a third of what it was in 2019. Not only are there less flights but with higher operating cost (like fuel) airlines flying out of China could be reluctant to restore capacity if they remain uncertain about demand.
CONCLUSIONS:
Whilst there are high hopes for Thailand's Covid recovery in 2023, there are many variables that can disrupt the trend going forward.
The main one is China. In the face of new covid infections, China's influence on the tourism recovery will depend on infection rates that impact its wider economy and how resilient its health services are in dealing with the ongoing challenges. China's outbound tour operators, airlines and charter companies, will be paying close attention to the situation, accessing the viability of adding additional services as and when the situation proves less volatile and uncertain.
Meanwhile, Russia remains an important source market but how much of an impact it has over the longer term, will depend on the ongoing war in Ukraine and the sanctions put on it (and its citizens) by other countries.
Beyond China and Russia, other factors that could hamper growth in 2023 are high interest rates, debt servicing cost, fuel costs, and rising prices. And as if that wasn't enough, there's the issue of staff recruitment and training, for the wider hotel industry after having lost nearly 1.5 million front line employees during the covid pandemic.
All told, whilst it's heartening to see the many green shoots pointing to a rosy recovery in 2023, recovery remains extremely volatile and the tourism landscape will be challenging over the next 6 – 8 months.