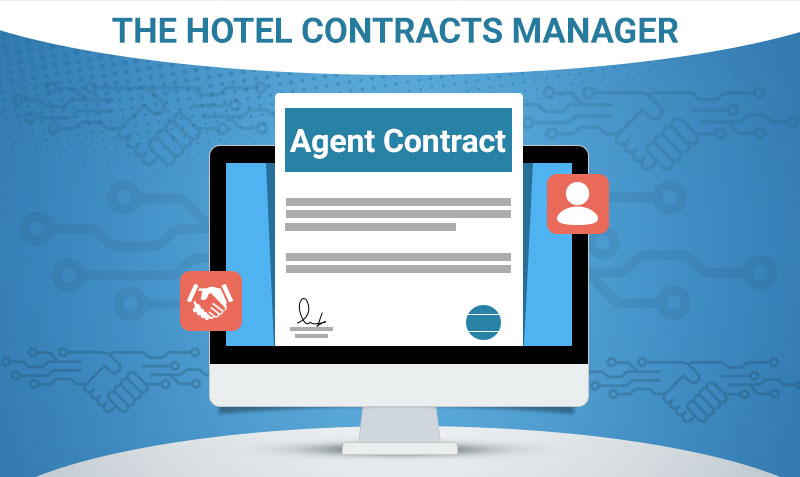 The Hotel Contract Manager
Hotel Contract Management is moving digital. Plenty of new services are being designed to streamline the way hotel contracting is done with 3rd party agents.
What's unique is that the electronic document can be drafted directly off a Smartphone from information that's electronically stored in the digital cloud to replace the traditional paper document.
Welcome to the new world of contracting!
The entire process of preparing, issuing, storing and sharing contractual information is digital. Being electronic you expose yourself less to the vulnerabilities common to human intervention in dealing with 3rd party agents.
For example, the contract manager makes it possible for users to build a database of contractual information that's kept in the digital cloud. Having your legalese information in a library (or repository) accessible from anywhere provides users the flexibility to quickly access pertinent information to mix and match the terms of contract according to whatever circumstance.
The tools available from the Contract Manager's empower users' to quickly create an electronic document, that can be sent by email or attached as a file, ready for electronic signature –replacing hard copy versions.
Recognizing the potential electronic contracts have in hotel distribution, Hoteliers Guru's has taken steps to synchronizing its contract manager with the pertinent electronic distribution information of rate and inventory back into the Hotel's own Channel Manager. By making the Contract Manager backward compatible - hoteliers can look forward to lessening the burden of managing their contracted agents.
Paper contracts are vulnerable to change, and can be altered making the binding terms irrelevant mainly for deceptive purposes without being know to the issuer.

Paper contract documents create masses of paperwork not to mention filing and storage headaches.

The handling of paper documents can lead to them to being lost or misplaced or filed incorrectly.

Paper documents are not easily shared and don't help collaboration between departments.

Information from paper documents cannot be electronically manipulated and need to be synchronized manually with the systems to which they apply.

Mix and match of information is problematic when preparing paper contacts and difficult to change or amend once published
ELECTRONIC CONTRACTS – THE FUTURE OF CONTRACTING :
Removing much of the friction that goes with issuing contracts takes preparing contracts to another level. The ease of access all but removes much of the legacy administration and paper work common to contracting, not to mention human error vulnerabilities.
BENEFITS OF ELECTRONIC CONTRACTS :
Using either "Adobe Sign" or "DocuSign" ensures the contractual seal and verification.
Both applications provide a simple but legally binding document as well as offer the following advantages :
Convenience - use a template to create the contracts, then sign and send.

Mobility - have access on any device, anywhere, anytime.

Trust - accepted and trusted by millions, worldwide.
Electronic contracts eliminate waste and save costs – in the following ways :
Being the central repository of information, the Contract Manager stores data about your hotel in one place, making it easier to draw up and create new templates quickly and easily.
With the Contact Manager, you can create, as well as mix and match templates with an electronic signature, and apply these multiple times for hundreds of customers.
The Contact Manager is scalable and backward compatible, electronically, with the Channel Manager. The means the data synchronization between both platforms are instantaneous and less prone to human error.
The Contract Manager allows your teams to collaborate more freely by having information stored electronically in one place.
Also with the integration of Channel Manager, promotes collaboration between teams allowing Sales and Front Office to have a better control over Daily Rate / Inventory Channel Management and Reporting.
FINAL THOUGHTS :
Hoteliers Guru is launching its own Contract Manager. We are confident it will open up a revolutionary new way of taking control of the contracting formalities with on and off - line Travel Agents.
The Contracts Manager will streamline the process of preparing, issuing and keeping contacts in one place - electronically. Added to that are cost savings made by eliminating much of the legacy practice of issuing and managing hard copy paper documents.
Going further - the Contract Manager can also help foster better collaboration between teams and best of all, because its electronic - the data can be integrated seamlessly with other application, such as the Hotel Channel Manager.
By integrating the Contract Manager together with Channel Manager – Hoteliers have the opportunity to move towards a more complete hotel contracting and distribution ecosystem, and thereby streamlining the administration and management of 3rd party agents.