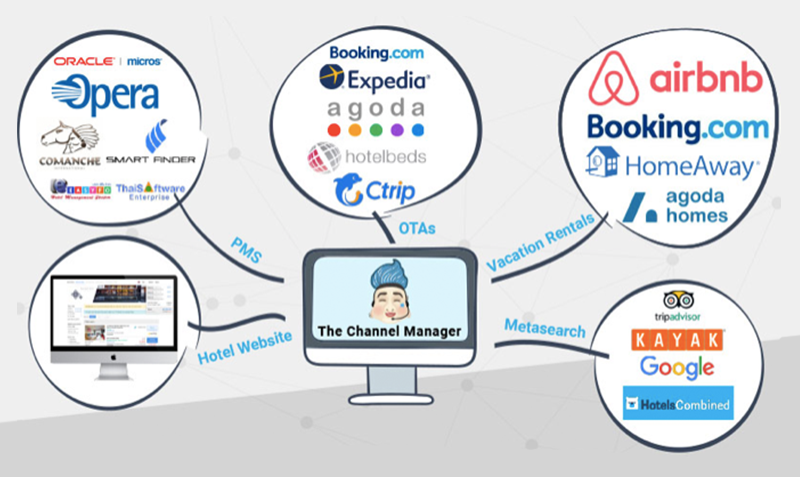 The Channel Manager - Travel Trends, New Users, New Features & Services
This blog is a follow up to my earlier writing in September 2019, about why your hotel needs a channel manager.
TO RECAP
Allows you to leverage the power of many OTA's without being tied to one.

Enhances your revenue opportunities by showing full inventory across multiple sales channels at the same time.

Prevent Over Bookings by keeping your inventory and updating in one place on one platform.

Extends your Brand Awareness across multiple sales platforms through the "Billboard Effect" enabling you to list on many different websites.

Minimizes routine data-entry and improvises your work flow productivity.

Synchronizes with Property Management Systems - automatically assigning rooms, whilst updating room inventory with contracted agents as new bookings arrive.
SUMMARY
Channel Managers empower their users.
The intelligent updating tools, makes it easy for the user to perform routine room / rate inventory maintenance across multiple contracted agents in real time without having to learn any special skills. At the same time – the Channel Manager reporting tools, provide a number of quick reports that offer a glimpse of the hotel's operation in an instant.
In this blog, we'll take a look at the changing face of Channel Manager, its users, their Challenges and Opportunities and how Service Providers, like Hoteliers Guru are helping to reduce the friction.
EVOLVING TRENDS / NEW USERS
As we enter the new decade, improvements in technology are driving better efficiencies throughout the service industry. For hospitality, it's affecting how people travel and where they choose to stay.
The two main service industries changing the face of travel and benefiting from the digital transformation and efficiencies taking place are Airlines and Holiday Home Rentals.
For example, consider the impact of digital transformation on air travel and how it's enabled the growth of self-serve discount airlines. This in turn has helped sponsor the growth of FIT travel. The flow on effect - especially for leisure, is the growth and availability of holiday home rentals, which offer cost effective alternatives to the traditional hotel room.
How does the playing field impact traditional users of Channel Manager in guest acquisitions? What are the challenges and opportunities for different interest groups such as Property Management Companies (hoping to monopolize the Holiday Home Rental segment) or for Hotels - wanting to differentiate and an get a foothold in the emerging market segment?
IMPACTS
Traditionally Hotels have been the main users of Channel Manager. Lately we're seeing the shift away from hotels toward Real-Estate Property Management companies. Let's explore further, by looking at the users of channel manager and the challenges and opportunities they face.
HOTELS – SUMMARY
With a growing number of travel apps and tools catering to every holiday and lifestyle experience – it's easy to see how people are differentiating and becoming more choosy about where they stay. For the leisure market in particular the focus has shifted in favor of holiday and lifestyle experiences - as opposed to the traditional hotel room.
Digital transformation has provided better cost efficiencies making it easier to setup and sell accommodation on-line and opening up a wide range of new and alternative accommodation possibilities alongside the traditional hotel room - marketed on both Hotel and Holiday Home OTA websites.
The challenge facing Hotel's is how to re-engineer in order to be competitive and grow in the face of diversification. One way, is by re-visiting the buying processes, looking for changes in how guests choose their accommodation from a bigger pool of available rooms and lifestyle choices.

For hotels to attract the same buyers, they need to do more and one scenario could include adding new room usage categories, alongside traditional ones. Initiatives like this, can help the hotel remain visible and not get overlooked (by their own guests) when conducting a search based on either criteria.

Similarly - another challenge for hotels, is to find the right contracting agent or OTA, that can springboard the hotels into the new usage segment in order to broaden their distribution landscape. In re-thinking the guest acquisition scenario, it pays to look at listing on less traditional ecosystems and ones that cater to Holiday Home Rentals – a key growth area. OTA sites to consider include Airbnb / Agoda Homes / Home Away / Flipkey etc ...
OPPORTUNITIES
By recognizing the challenges, Hotels can safe guard their market share and at the same time harness new opportunities by offering something unique that differentiates their traditional service.
In the meantime - Channel Manager companies like Hoteliers Guru can help. We've been developing new API's (Application User Interface) with our OTA counterparts that address some of the challenges mentioned.
to help users lessen the friction of updating content to OTA websites. The media center will include the possibility of updating: Pictures / Room Types / and Property Information etc. ... The uploaded formalities will take place directly from the Channel Manager and pushed out to the OTA – bypassing the Extranet completely.

between the guest and the hotel – on the back end of the OTA's infrastructure directly from the Channel Manager.

in order to broaden the number of channels beyond traditional OTA's.
PROPERY MANAGEMENT COMPANYS – SUMMARY
Property Management Company's, represent one of the largest new usage segments for Channel Manager.
We already outlined the Travel Tread for 2020 and beyond. Looking at FIT travel and its role in contributing to the growth of short-term Holiday Home Rentals – the Property Management Company is well positioned to benefit - simply because they already offer Home Management and Rental Return services to the owner.
Before the Property Management Company is able to grab the opportunities before them - they still need to learn and get sophisticated about how to list, grow, and differentiate holiday home rental listings to make it compelling for people to book.
Like Hotels - Property Management Company's should choose to promote and sell their holiday homes' portfolio to as many on-line agents as possible. They also need to be able to simultaneously manage all sales channels (across the board) paying the same level of attention to each one.

Similarly, Property Managers would want to think about their choice of OTA - because not all OTA's will have the same reach or track record. Choosing ones that pitch's Holiday Homes Rentals is essential. For example - compared to traditional OTA websites, partnering with Airbnb, Home Away, VBRO or Booking Dot Com is an essential requirement.
Let's consider how a Channel manager can help tackle the challenges above ...
As more customers book, managing rooms and inventory as well as distribution across different channels is going to be much easier with the help of the Channel Manager. Let's face it, Channel Manager's open up many possibilities - more so than doing the same thing manually.
OTA connectivity is another consideration. Having many contracted agents integrated on one platform also helps minimize the chance of over and missed bookings.
For all intents and purposes - the Channel Manager is therefore an essential tool in enabling Property Mangers realize their full potential in guest acquisitions. The Hoteliers Guru Channel manager in an excellent position to assist Property Management Companies have the same level of success, which we've already seen with hotel partners.
CALL TO ACTION
Hoteliers Guru has already started addressing the call to action.
FEATURES & SERVICE ENHANCEMENTS
The Channel Manager Media Center – offers new features allowing users to add information about their hotel or holiday home directly from the Channel Manager which will push information to the OTA.
Rooms Type Listing (Descriptions).

Facilities & Amenities (Descriptions).

Photos and their Descriptions.

Icons and Medallions that highlight services.
Updates to the service will be rolled out on sites like: Booking dot Com, Home Away (Expedia) and Airbnb in Q2 - 2020. The improvements are intended to enhance daily workflow productivity by reducing time wasted by 15 – 20 %
Channel Manager Rate Shopping Tools - are a new feature already launched, allowing users to compare rates against their immediate competitors and at the same time keeping an audit check of rates to ensure parity across different OTA platforms.
Rate Intelligence information offered thought Rate Guru is designed to allow hotels keep pace with market rates in a dynamic rate environment to help hotels plan and execute their pricing strategy better.
The Channel Manager sits squarely at the revenue center of hotels, by simplifying the workload and commutation flow between the OTA and the hotel.
Integrating the channel manager with the hotels own booking engine as well as Property Management System –can fulfil a critical role in streamlining the hotels entire online distribution and guest acquisition process. Hoteliers Guru already offers the Channel Manager as an all in one service solution for hotels.
As a service provider, we understand that delivering a great Channel Manager service is by itself is not the only key to success. The way to get closer to all round success is by ensuring our customers are delighted and satisfied with the service and that it does what its' supposed to.
To achieve this - we co-sponsored a series of events and workshops last year. Customer engagement sessions – that take place on a personal level provide the chance to go deeper in order to solicit feedback allowing us to root out inherent weaknesses within the system and at the same time address any guest acquisition problems.
In the weeks and months ahead, we will be continuing the initiatives by conducting a series of interactive workshops and seminars with customers to reinforce their understanding of Channel Management and how to reduce the friction of guest acquisitions.
CONCLUSION:
Channel Managers will continue to serve as the back bone of Guest Acquisitions services for both Hotels and Property Management Companies for a long time to come.
The Channel Manager will continue to empowers its users with an easier way to control their distribution, whilst providing better workflow efficiencies and the seamless integration of Property Management System and Direct Booking Engine Service - fulfilling a better and more complete all-round Guest Acquisition Experience.