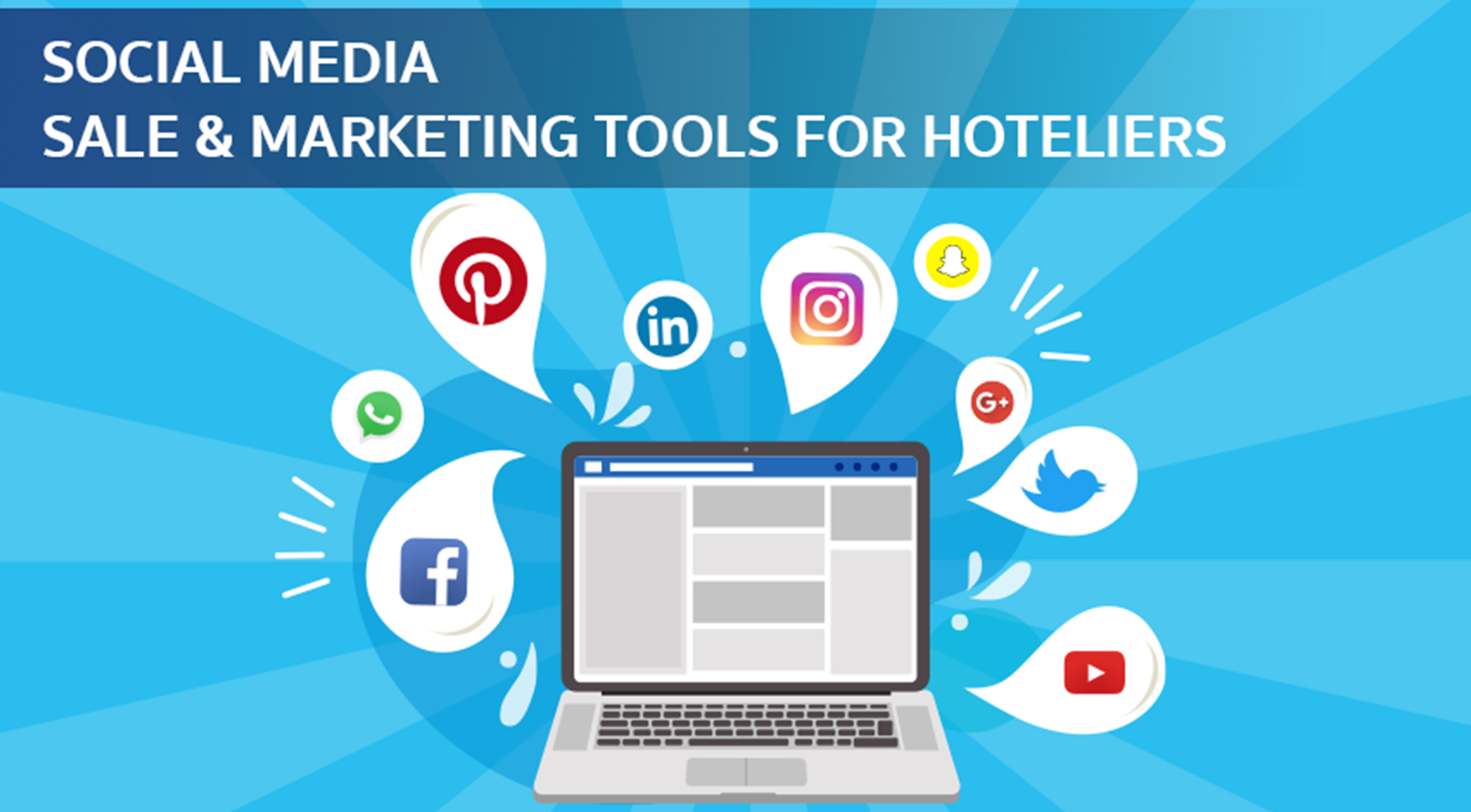 SOCIAL MEDIA – SALE & MARKETING TOOLS FOR HOTELIERS
Hoteliers are quickly learning about the power Social Media offers in marketing their hotel. Because social media engages its users so effectively, it makes sense for hoteliers to use these platforms to compliment other mainstream sales and marketing activities – such as advertising and PR.
The secret of success lies in the creation of a connectivity hub which people can join. The connectivity hub is really an APP that is accessible on a PC or Mobile device. The central feature of the APP is a content feed, which streams information back to the user, based on their interest. Much of the content being streamed is personal and about what friends and acquaintances have been up to or are doing. Personal information helps energize and engage the user to make it a great experience. To fill gaps in personal information, "fillers" are added such as daily news, current affairs, and business promotions based on the user's interest.
Most social media platforms are similar in using targeted personal content to feed user interests. Businesses can take advantage of this unique attribute, by building a robust business profile to attract people. Finding new people to become followers of your business can be done organically or through paid advertising, which we discuss below.
Meanwhile, today's easy access to real time information provided by an established digital infrastructure and mobile networks, makes accessing the internet, whether through a PC or mobile device easier than ever. Social Media platforms have been savvy in using these resources to build their business by making it easy to connect with like-minded users, families and user groups. Hence, anyone and everyone can share anything whether its personal information and photos or getting news about events relevant to them and according to their interest.
DEVELOPING A STRATEGY:
There's no one size fits all Social Media strategy for hotels, since every hotel is different as are the many social media platforms that exist.
To develop your hotel's social media strategy, you'll want to outline what you would like to achieve and how this fits into the bigger sales and marketing picture for your hotel.
Some of the questions to ask may include:
What's your brand identity and personality?
Who or what interest groups do you want to target on social media?
What's your objective?
How will you track results?
Do you have a budget?
Will you be achieving your objectives organically or through social media ads or both?
Establishing your strategy using the parameters above, will make it easier to choose which platform will yield the best results.
CREATING A BUSINESS PROFILE – THE RATIONALE:
Social Media platforms allow users to create their unique business profile so they can target people, interest groups and demographic users, by feeding information about events, promotions and exclusive deals.
Developing a business profile helps attract like-minded people who share a common interest in your business. For example, someone might see your business as unique and having useful information, whilst others may choose to follow news and promotions you offer from time to time. People who follow businesses tend to be looking for promotions or even limited time exclusive deals.
One of the main reasons why Hoteliers will want to use social media to influence people is because they are already highly qualified having chosen to follow what you do. Being highly qualified makes these folks good candidates for sales conversion.
Going a step further, the business can profile their followers. Profiling opens up the opportunity to break away from purely organic promotions, to one that is more tactical based on paid advertising. (similar to website advertising) Advertising on social media offers the advantage of reaching a large, highly qualified audience, guaranteeing a high turnover with minimal wastage.
For example: Facebook has nearly 3 billion monthly users whilst Instagram has more than 1 billion monthly active users. Meanwhile Twitter has approx. 340 million active users.
Even if you are not spending money on paid ads, you can still build a large following by engaging and interacting strongly with the travel community. The positive engagement you provide should translate into more views and visitors arriving at your Social Media page. The more visitors you have, the easier it is to convert them to sales.
BUILD YOUR AUDIENCE ORGANICALLY (DRIVE MORE INBOUND LINKS):
There's a lot you can do to grow your Social network organically and without spending on ads - for example.
START BY:
Inviting your own contacts and friends to like your page;
Ask people you know to share and recommend your page or posts;
Add links to your Social Media page on your website, emails, Google Business Profile, and other social media sites such as Instagram or Twitter;
Encourage guests or visitors to your hotel to join your page by putting displays on tables, your front desk, or on welcome packs in your rooms;
ENGAGE YOUR AUDIENCE - GETMORE:
Share interesting or little-known pieces of trivia or history about your destination or hotel.
Survey guests about their favorite parts of the trip or their stay at your property and share these experiences on social media, with permission. The same goes for funny, quirky, or outstanding reviews.
Run competitions to build excitement and increase sharing, promoting your contest over a number of weeks until the prizes are handed out.
Try to work with influencers or bloggers to increase your reach and gain the trust of more travellers.
Create discussion by asking followers questions and encouraging them to offer their opinions and comments. Your questions can be as fun or formal as you see fit.
Collaborate with other local businesses in your area to enrich your content, boost visibility, and create enticing offers on social media.
Be a local source of news and information – if there's anything new happening in your town make sure your followers and guests know about it and see how useful you are.
BEST PLATFORMS FOR SOCIAL MEDIA MARKETING INCLUDE:
Facebook;
Instagram;
LinkedIn;
Tik Tok;
YouTube;
Twitter;
WeChat;
LINE.
Each of the platforms listed here have big audiences and some are niche oriented.
For example: WeChat is exclusive to China, while LinkedIn is mostly popular with working professionals, whereas LINE is popular in Thailand because of its colorful icons and animations.
When developing your strategy, it's important to keep in mind the attributes that make each platform different.
For all intents and purposes, hoteliers will want to focus the bulk of their attention on Facebook. Meanwhile, Instagram, LinkedIn and YouTube are worthy candidates in addition to Facebook or alternatives of Facebook.
MARKETING ON FACEBOOK:
Social media and Facebook go hand-in-hand. Facebook was one of the first platforms to launch and its certainly one of the most important.
Like SEO marketing for your website, search engines are known to list search results based on your hotel's Facebook page and in some cases with the same relevance of your website (depending on the keyword being used) This means that it's really important to setup your hotel name and location correctly within Facebook to get the best of both worlds.
Building a robust business profile on Facebook helps you maximize your online exposure. To get the best results from your website and social media pages, make sure all your non – social media profiles and any aliases you're using on the website, get fed into the Facebook page. (establish a link back)
Similarly, make sure your website content gets shared out from your Facebook page - especially if you have a blog or a gallery of photos.
On the back of the traffic you drive to your Facebook page - make sure that you have a point of sales "BOOK NOW" button which links to your booking engine so that you can capture any and all potential on-line traffic.
Aside from that - It goes without saying that you'll want to focus on creating good content. Creating good content includes:
Stories: Short clips or images that show your audience how your operation works, the people behind the scenes, or show-off great guest experiences.
Sometimes if you can display stunning Images of your hotel or the local area, helps inspire people to visit more than any words ever could. (And don't forget to tag your location!)
Promos: Copywriting skills and marketing language play a key role in making this successful. Offer your followers exclusive and exciting promos that entice impulsive bookings.
Events: Hosting events, even virtual ones, helps bring people together and may even introduce new people to your brand. Partner with other businesses to create events that will have travellers and locals excited.
Competitions: Competitions are a great way to get people to share your content and bring new followers to your page, while drumming up revenue in the process. For example, "LIKE" and share for a chance at 10% off your next booking;
Reviews: Reviews are important, on any platform that invites feedback. Be proactive in responding to reviews and resolving issues, to get your review score as high as possible. Ultimately it should reassure and reinforce the travellers expectations about what they can expect when staying in your hotel.
Tagging, commenting, sharing: Being active on the platform will help you win the confidence of travelers and help you build followers over time. Tagging people or other businesses, sharing posts you think your audience will like, commenting on posts you support, and using targeted hashtags are all ways to draw attention to your hotel on Facebook.
Check-ins: To increase valuable word-of-mouth advertising, encourage your guests to use check-ins or location tags on any videos or photos they post to their own social media.
MARKETING ON INSTAGRAM:
When it comes to sharing travel related images and videos there's no more popular platform than Instagram. Travelers love to curate perfectly framed photos, write amazing captions, and use fun hashtags – allowing other travelers to get inspired in turn. It makes complete sense for you to join this community, share your own dazzling property and destination content, and connect with potential guests.
Instagram also now has features that allow businesses to include "Book" and "Reserve" buttons on their profile and you can create your profile in much the same way as you do on Facebook.
Some tips for sale and marketing your hotel on Instagram:
Always use hashtags – These posts see 12.6% more engagement than those without a hashtags;
Set location tags – Again, including a location can boost your engagement by up to 79%;
Create or use spaces in your hotel for selfies or photo opportunities – you want your guests to share as much as possible;
Encourage the use of your own branded hashtags by guests – this will help you when it comes to working with influencers and also to track how many people are talking about your hotel or sharing your content;
Have variety – Highlight your hotel's best features, get staff to take selfies behind the scenes, and use your destination to advantage in your content;
Re-share – User generated content is free publicity for your business so make sure you acknowledge and re-share anything your guests put out.
Remember, Instagram is a classic case of being active where your likely customers are active.
MARKETING ON YOUTUBE:
YouTube is embedded into the fabric of how people consume video content and entertainment, to the point where it is probably more influential than television advertising. It has the potential to put your brand in front of a large volume of potential guests, and we already know that video is more engaging than still images.
Video is set to account for 82% of all consumer Internet traffic worldwide by this year (2021). Video is a great way to bring your destination and your hotel to life, engaging the imagination of travellers and inspiring them to take a trip.
Some tips on the types of video content you might produce:
Virtual tours of your property;
Virtual tours of your destination;
Behind the scenes footage with staff;
Guest testimonials;
Montages of any events or celebrations that take place;
Tips and hacks for travellers;
Emotional or aspirational features;
Highlights of promotions or upgrade opportunities;
CONCLUSIONS
Social Media platforms help compliment your hotels sales and marketing resources and tools. Compared to the website, social media platforms offer the advantage of being less static and more engaging with their users. There are several Social Media platforms to choose from, with each one offering something that is unique.
Common to all platforms is the content stream, which feeds information curated to the user's interest. The content stream is highly qualified and can be a useful tool for businesses who want to promote their services. Businesses that have limited success promoting themselves organically can reach a bigger audience through paid promotions. Paid promotion is a form of advertising designed to enhance the sales conversion process more easily then organic promotions alone. Social media platforms offer the benefits and practicality of either organic or paid advertising giving their users a wide choice of options to reach their targeted audience.
Your hotel's social media business page will not be useful as a sales and marketing tool without including a point of sales facility that allows users to make hotel bookings. This is especially true if you are promoting your hotel organically or through paid advertising. Ideally, you'll want to connect to your booking engine with a "BOOK NOW" to monetize every opportunity when someone visits.
If you haven't already integrated a booking engine into your Social Media Business page, you're probably missing out on point of sales booking opportunities.
For more information about how to connect your Social Media Platform with a Direct Booking Engine - Please get in contact with our Sales team: Bangkok 099 419 8735 Phuket 070 095 7437 or by Email: [email protected]