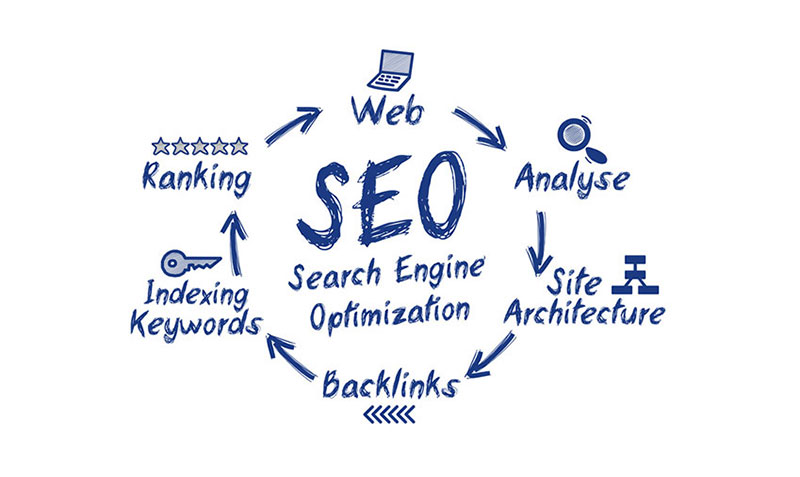 Search Engine Optimization
WHY CONSIDER OPTIMIZING ?
Search engines serve millions of users per day looking for answers to their questions, and especially solutions to their problems.
When people search for products and services, it's obvious why we want to be high in search engine results and preferably on the first page. That's because research proves, that people don't drill down past the first page of search term results.
But more than that, there's certain amount of prestige and value in appearing prominently in search results for terms related to your business. 
Search engine optimization, often abbreviated as SEO, refers to a set of processes by which a website is improved (optimized) in order to rank better in searches using Keyword Search Terms.
BEING SEEN
Having a great looking website is useless if it's not discoverable or seen by any one.
Being seen if Vital and it doesn't just happen.
Imagine if you continually show up in search results for similar listings, under a keyword search term. Not only are you are gaining more mindshare from people seeing you under one or more search terms but you're also improving the chances that someone will eventually click their way to your website
SEO is all about getting your website exposed - and about how many times your website is visible under one or more search terms.
Like any PR campaign – your message is only as loud as the number of people who see it. With SEO its the methodical step by step process to identify what you want to achieve, and making sure you have the processes in place to achieve these results.
SHOULD YOU CARE?
If your business depends on customer patronage and operates in a competitive environment… absolutely, you should care!
Hotels for example, know that travelers use the Internet and the search engines to collect information about travel and about the accommodation possibilities available to them. Next, competition and competitor offerings mean that the hotel must work doubly hard to ensure they're seen amongst the wave of similar listings. Moreover competition can be our direct competitors, our agents, other generic alternatives and even alternative holiday destinations - adding to the mix.
With this in mind – and remembering that most people use the Internet to gather information, as well to facilitate and reinforce their final purchase decision, achieving and maintaining good search term (page) ranking under one or more search terms, is important.
THE SCIENCE BEHIND SEO :
Search engines use very specific algorithms to decide how they display results.
Supposing they chose to show people things they didn't want to see – its obvious people wouldn't use them. (That's one reason why Google is more popular then Bing) Poor user experiences or irrelevant content can make users doubt the validity of results. Over time it could erode the user's confidence in the search engine.
That's why search engines place importance on the quality of your website and its contents (if you don't care why should they).
1. The search engines can find you.
2. They can easily tell their visitors what your web pages are about.
3. They believe your page/site has authority and credibility for the content you're promoting.
Part of the SEO process, involves identifying which keywords and phrases your target audience uses when looking for products or services like yours, then working towards ranking well for those searches.
SEO is like a tree with many branches.
Components of SEO include a multitude of various practices mainly to do with dynamics, specifically designed to target search engines in their crawling and indexing process.
Optimization Dynamics and On-site Manipulation.
Think for a moment about how you would expect potential guests to find your hotel online. What words and phrases would you expect them to type into the search engine to locate you? Then - look at your website... Do these same words and phrases appear at least once on your site?

A crucial component of SEO is using the right keywords', or a combination of words and phrases that people are actually use to find websites like yours.

You need unique and high-quality content that's relevant and different from content on other sites in both wording and topics. This gives a real boost for your site's online presence. It's better to have longer, more meaningful pieces of 450 words or more.

The invisible information behind every webpage is the unique meta title and meta description code in HTML language. The coding is language speak for search engine to tell their visitors what your page is about.

The meta (page) title appears at the very top of the individual search results for each page the search engine found, whilst the meta (page) description - just below the title, gives a 1-2 sentence summary describing what to expect find from the page if someone were to click to it. Having unique titles and meta descriptions for each page of your site can help tell those finding your hotel (in search) what that particular page is about, what kind of information it contains, and why they should visit your site as opposed to a competitor's

Having your keywords in URLs will help a lot towards SEO. If, for example, the keyword you want to rank for is "budget hotel rooms", you should include that in your URL — http:// yourhotel.com/budget-hotel-rooms. Remember though, if you don't have the keywords in other part of the page, you can't rely on simply having them in the URL.

While search engines can't read images, (yet) they can read the descriptions in the image file name and tags. You should include keywords in both of these, but they need to accurately describe what the image is (whether it's a lobby, guest room, or banner ad).

Internal links help users navigate and help establish importance to search engines by the number and quality of links to a given page. These are generally keywords or phrases that are linked from one page to another within your website.
(the 2nd component to consider in SEO.)
Offsite / page SEO, is about building up your website's online authority through inbound links from other websites. Off-site SEO is all about the quality and relevance of the links to your website (websites with lots of quality user traffic), which establishes your own authority and determines your search ranking results.
Links from external websites is the one of main ways search engines evaluate and rank your website. Link building is where you get other sites (preferable with high page ranks and domain authority) to point towards your website.
Quality — the popularity of the page that links to you.
Authority — the trustworthiness of the domain pointing to you.
Quantity — the more high-quality, trustworthy pages that link to you, the better.
Diversity — you will want several variations of the anchor text on the target page.
SEO – WHAT ITS NOT :
SEO isn't a single tool or process. It's not a series of tricks (like keyword stuffing) or secrets (like link trading) you can use to fool search engines. It's also not a series of shortcuts that allow you to buy your way to the top of the search results.
All of these tactics have been used in the past by businesses and search engine "professionals" trying to game the system. Many of them achieved results, but only temporarily.
As search engines become more sophisticated, they get better at returning real results instead of low-quality articles stuffed with keywords or supported by cheap backlinks. Most Search Engines penalize these techniques and reward content that is truly optimized for search engines.
IN SUM
Any Hotels that values the importance of PR, digital marketing, branding, direct business cannot afford not to consider the benefits of SEO marketing at some point, as it should allow them to gain more visitors from search engines on a regular basis. The increased level of traffic should translate in to more business and also provide greater flexibility to make changes to business's strategy in order to capitalize on new trends, develop new products, improve brand awareness and develop customer loyalty.