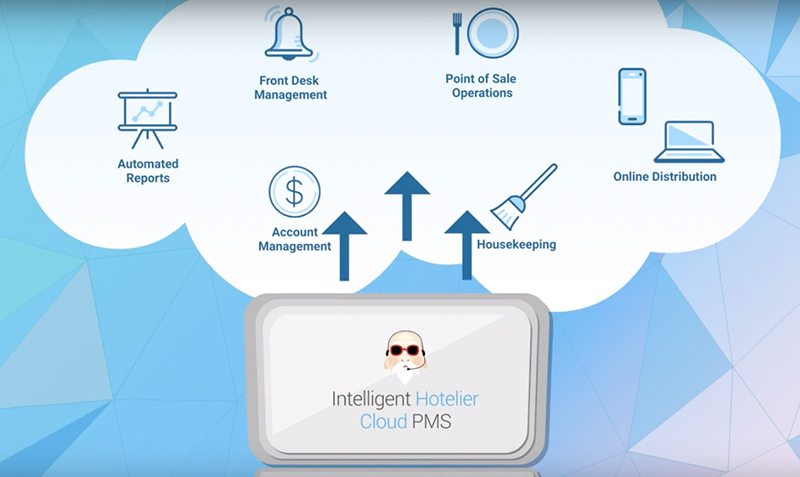 PMS Solution for The Modern Age
The hotel front desk is often thought of as the focal point of hotel operations.
It's a front-line position for staff meeting new guest and the last place to farewell guests. But more than just a meet a greet service - the front desk is also the repository of hotel information such as room inventory, rates and financial reporting. Its also the connectivity hub to different departmental functions including: room service, housekeeping, and accounting.
In order to make sure information and guest interactions take place seamlessly, hotels have come to rely on the Property Management System – fondly referred to as the PMS.
Yet different hotels have different expectations of a PMS.
OVERVIEW OF DIFFERENCE PMS MODELS :
On-Premises :
The traditional solution for PMS, typically installed on hotel computer and accessed via desktop.
Application hosted and data stored on a server located on the hotel premise.
Capital investment in hardware (computers, terminals, servers...) and upfront license fee for software (perpetual license). Updates are usually paid for.
Usually acquired with a contract for service and maintenance.
Hybrid cloud
Legacy solutions which have been transitioned from on-premise (having been written for Windows OS eg in Java) and given web front-end for access via browser on computer, tablet and mobile.
Can be hosted locally or remotely from PMS providers' server at data centre.
May still have certain elements on desktop.
Subscription based pricing model, typically calculated as a fee per room per month.
Initial set-up fee (with additional charge for interfaces & training)/ migration fee from on-premise.
Greater depth of functionality than web-native as has all the functionality of the legacy system.
Web-native cloud
Designed purely as a web-based solution – optimized for tablet and mobile use.
Accessed via internet browser.
Can either be hosted via – Private cloud – PMS providers' servers at data centre or Public cloud (eg Microsoft Azure).
Designed specifically as web software and so mobile functionality is higher, typically easier to use and faster to launch updates.
Subscription based pricing - per room per month with an initial set-up fee. Updates typically included in package.
Easier to interface with other systems.
Needs internet connection to operate.
MODERN PMS SOLUTIONS :
In the past 10 years and evolution of personal computing and mobile phones have changed the way travelers of the new age plan and purchase their travel experiences.
Particularly because of the introduction of new technology, like smart phones, declining cost of mobile data and the prevalence of WiFi connectivity, the changes have given rise to on-line travel agencies and the way consumer book - moving away from traditional methods and into on-line systems and mobile devices.
Hotels themselves were slow to adapt, opting instead to stick with more traditional and well-established systems. However, this is now starting to change.
Current trends show that hoteliers are finally embracing the use of cloud technology. Cloud-based solutions are steadily becoming more and more popular, due to established companies in the industry migrating their software to the cloud and a myriad of new start-ups offering cloud-native solutions.
In recognition of the new playing field, many traditional PMS vendors have already launched cloud versions of their software, offering them in addition to the on-premise solutions and many new PMS cloud solutions are being realized.
ADVANTAGES OF THE CLOUD :
We all know how the Property Management System can empower hoteliers to improve their operations, increase sales and streamline the interaction with guest. But what are the specific benefits of cloud-based PMS that you don't get from the traditional on-premise solutions that most hotels continue to use?.
Let's have a look at a few of the advantages...
The most obvious advantage is that the PMS is accessible from any computer, regardless of the operating system being used and from any relatively modern mobile device, such as smartphones and tablets, with an acceptable screen size. The hotelier can, for example, check for arrivals/departures, whether he is at his office, at home, in a meeting or any other location. This benefits the hotel staff too, as they are no longer tied to a specific terminal or the front desk and can offer their services on the go.
Cloud-based PMS are usually easier to integrate with third-party solutions, such as central reservation systems, revenue or yield management systems, POS and channel managers, compared to on premise systems, through the use of APIs designed specifically for that purpose. Older systems were much more proprietary.
Cloud technology is scalable by design. As a hotel's or hotel-chain's size and operations grow, the cloud vendor is able to scale the processing power and data storage needs to match the demand. This obviously comes at an additionally service cost from the vendor, but that is far lee costly than having to upgrade a business' own infrastructure.
DRAWBACKS :
Even though cloud-based PMS offer great advantages and are now considered an established product, there are still some areas of concern.
Quality of service depends on the quality of the internet connection of the hotel and the amount of bandwidth available. This can sometimes be an issue when there are other bandwidth-intensive operations happening or the internet connection itself is poor in that location.
Since all data is stored on the cloud vendor's infrastructure, the loss of internet connectivity is a major issue. The hotel must invest in some kind of backup internet plan, usually in the form of a data card or mobile internet. Their use usually comes with additional costs but this cost is deemed insignificant compared to a lengthy service outage.
While rare, service outages do happen, even on reputable vendors and OTAs and there's nothing the end-user can do about it, other than having some kind of a backup system in place that can satisfy some basic operational needs. Thankfully, cloud services downtime is rare and usually only lasts for a few hours.
With cloud technology, all of the hotel's sensitive data, like guest profiles, billing information etc., is stored on the vendor's infrastructure. If this infrastructure is not adequately safeguarded, then sensitive information could leak.
THE CLOUD EVOLUTION
Cloud PMS solutions typically allow you to  similar to legacy based system for a fraction of the cost. The benefit of cloud based software, is that software updates happen on the vendor's server and therefore, everyone is always using the latest version. This prevents compatibility issues between terminals using different versions of the software and saves time for I.T. personnel spent on upgrading different machines.
Server failures and malfunctions have the potential to be disastrous, when dealing with traditional on premise solutions, especially on the enterprise level. They can lead to data loss, data corruption and extended downtimes. By choosing a reputable cloud vendor, the customer no longer has to worry about such issues.
Cloud-based software has very little requirements in terms of processing power and storage. Any old computer that can access the internet, or a mobile device, can be used to operate a cloud-based PMS; which leads us to the next point
Cloud based software typically trades the upfront cost of on premise solutions for a subscription-based pricing model. It also eliminates the need for specialized hardware purchases (servers) and saves up on I.T. personnel cost.
And finally - once your PMS is connected to a Channel Manager, all your booking details from the various booking channels (i.e. your website, Booking.com, Airbnb, Hostelworld, etc.) arrives automatically to your PMS. This allows your guests to check availability and book your rooms on-line quickly and easily and minimizes the number of incoming phone calls from guests and Travel Agencies checking availability.
The Hoteliers.Guru Intelligent Cloud Property Management System offers many of the benefits mentioned in this blog and for the fraction of the cost of traditional Legacy systems – either as a standalone package, or as a two or three in one solution. Try it free for one month – No Obligations !