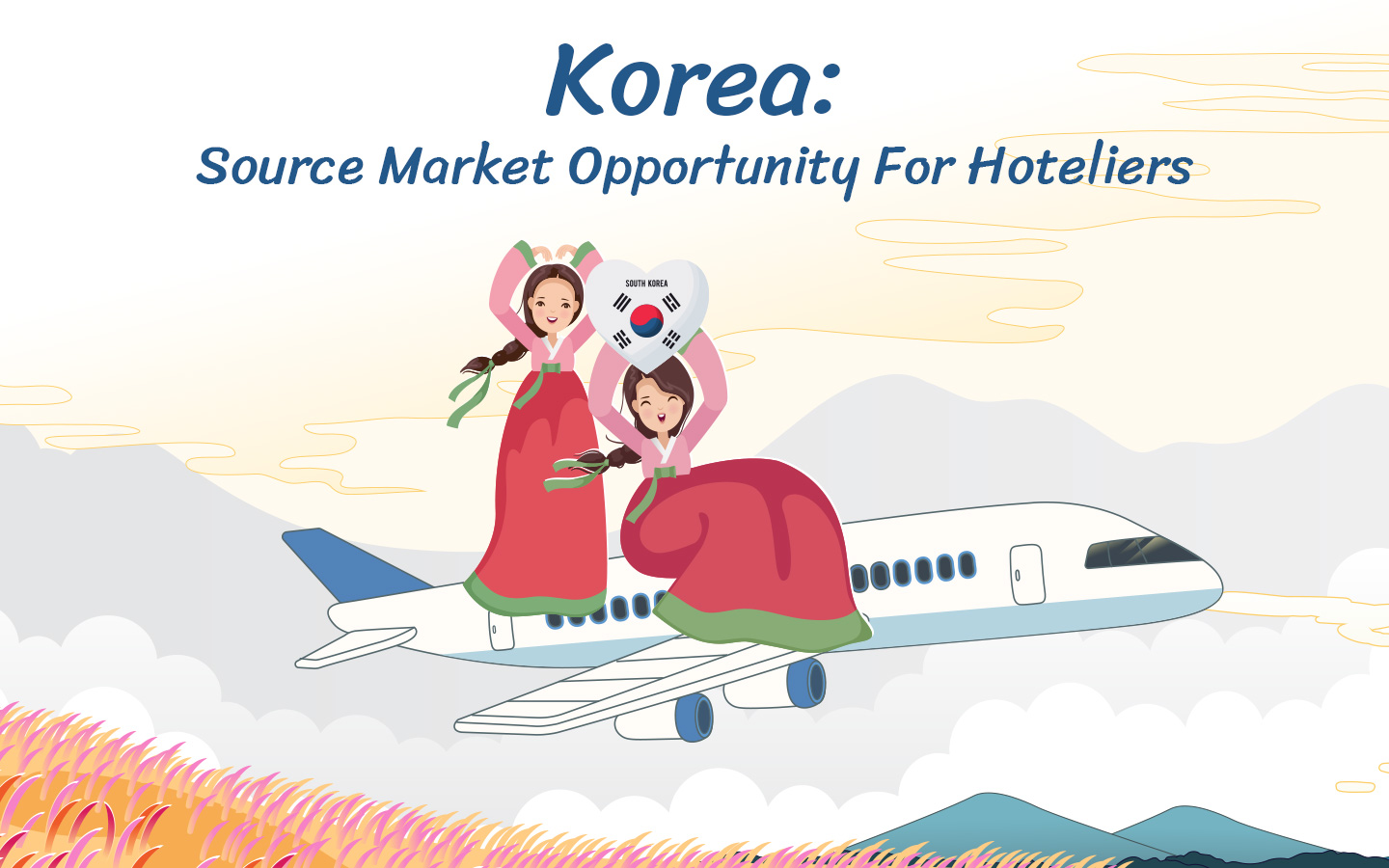 Korea: Source Market Opportunity For Hoteliers
International arrivals from Korea were growing steadily prior to Covid-19. Back in 2019 it was the third largest tourism source market in Asia-Pacific. (according to GlobalData - UK.)
Before the pandemic, Thailand welcomed as many as 1.9 million people from Korea and it was 4th overall, in the total number of visitors entering the country.
In mid 2022, both countries eased travel restrictions and tourism slowly resumed. As the number of flights increase in 2023, that number is expected to grow to 1.3 million.
Below is a discussion why Thai Hoteliers should consider Korea and what makes the market unique. We'll conclude by introducing a GDS Agency recently launched in Thailand with strong ties to the Korean travel industry and why hoteliers may want to sign up.
MARKET POTENTIAL:
GlobalData UK in it latest 2022 update from the 'Korea Source Tourism Insight Report' projects that outbound travel from Korea will exceed pre-pandemic levels by 2024, with international departures growing at a compound annual growth rate (CAGR) of 7.3% between 2022 and 2025. By 2025, international departures are expected to reach 30.3 million, according to the report.
By 2025 Korea is expected to be the third largest tourist market in the Asia-Pacific region. Korea is likely to be highly sought after as other big markets like China and Japan, are yet to make a full return to international travel.
HOLIDAY PREFERENCES:
Korean tourists have very unique travel preferences, which the travel industry, especially destination management companies (DMC), tourism boards and hotels should recognize and take advantage of.
Holidays preferences include:
Sun & beach holidays,
Gastronomical holidays,
City break holidays,
Wellness / Medical holidays,
Wedding-related holidays.
TECH SAVVY TRAVELERS:
Nine out of 10 Korean travelers own a smartphone, and roughly half of those users' booked flights and hotels through their smartphones over the past twelve months. The number of internet and smartphone users has reached 95 percent of the population. As a result, more travel companies are focusing on app-based travel platforms and creating user-friendly mobile applications, since the number of travelers that are using online/mobile booking services is rapidly increasing. (information according to International Trade Administration – Aug 2022)
Approx. 77% of travelers use portal sites like Naver and Daum when they are looking for information about their trip. The remaining 33% typically use SNS (e.g. Naver / Daum Cafe, Naver Blog, Instagram, Facebook) when they collect information about their trip.
For example, web portal "Naver" features a NAVER Blog and a NAVER Café, catering to the online travel community with reviews, opinion and discussions - making it a trusted and preferred resource.
Market engagement through Technology is unique to South Korea - according to a quote from GlobalData UK - 1Q 2021 consumer survey.
"Its important to be aware that technology plays an important part of travel preferences as 71 per cent of South Korean respondents identified as 'always', 'often' and 'somewhat' being influenced by 'how digitally advanced / smart, a product / service is' for them"
The same survey also revealed that 51 per cent of South Korean respondents are spending more time online in general – highest among 42 countries surveyed, suggesting technology dependence increased during Covid 19.
TOURISM PROMOTION SUPPORT:
The Tourism Authority of Thailand (TAT) signed agreements with tourism operators from Korea to expand cooperation between the two countries. (Reported by Bangkok Post in Dec 2022)
The TAT also signed a Memorandum of Cooperation (MoC) with Korean Air to expand the airline's flight services to Thailand, including launching new routes and more destinations. Additionally, the agreement aims to provide more options for American travelers visiting Thailand by using Korean Air's route network as a gateway.
The TAT Governor said these agreements come ahead of the "Visit Thailand-Korea Year 2023-2024" designed to benefit Thai tourism. They will assist the TAT in positioning Thailand as a year-round destination for Koreans, especially among millennials, Gen Z'ers, Solo-Women Travelers, Honeymooners, Incentives, Luxury, and Long-stay Golfers. TAT predicts that with the help of the promotion campaigns the number of tourists visiting would reach at least 1.1 million in 2023.
TARGETING KOREAN TRAVELERS:
Deciding which travel agency, wholesaler or GDS to choose from will be one of the challenges facing Thai hoteliers. Because Koreans' have unique travel preferences, the candidate agency needs strong ties with domestic and international travel partners.
An extensive choice of package tours, flights and accommodation needs to be offered and aligned with the travel community. This should be offered through the digital economy like websites and social media. The digital economy should be a seamless experience where people go to exchange and share ideas and reviews, before moving on to selecting their preferred holiday and finally making a point of sale purchase.
Importantly, the candidate agent needs a robust marketing strategy that leverages the strength of the digital economy – whether its by mobile application or partnership with popular websites and Social media to pitch outbound travel to specialty user groups.
INTRODUCING: ONDA GDS
ONDA is a Korean GDS agency established in 2016. Over the last 3 years its dominated on-line hotel sales in Korea.
ONDA's GDS currently sells 380,000 rooms from over 38,000 hotels and other types of accommodation through 40 Korean and global channels such as on-line travel agents (OTA) and e-commerce platforms (i.e. Naver, 11Street, Ticket Monster, etc.). ONDA is also Kakao's (popular Korean Chat App) hotel technology partner, offering hotel booking solutions to its chat application users.
Because Korean's rely so much on website portals and social media for sharing travel information and experiences, ONDA's success can be attributed to the clever use of these platforms to drive sales through mobile applications which act as an e-commerce gateway to their travel related products and services.
Of particular interest for Thai hoteliers is the GDS platform. The GDS acts as a real-time sales intermediary, by feeding travel information and Hotel inventory to over 30 B2B agents and OTA partners, which Korean Travelers typically use.
ONDA is an ideal candidate for hoteliers considering to target the tech savvy Korean outbound travel market.
CONCLUSIONS:
The Korean market presents good growth opportunities for Thai Hoteliers especially dependent on China which is still not fully recovered from Covid 19 and could see tensions and trade sanctions with the US.
Moreover, as an alternative regional market to China, Korea is forecasted to grow by a compounded growth rate of approx. 8 % (according to GlobalData UK) from now through to 2025 when international departures are expected to reach 30 million. As mentioned in the Blog, Korean's have very distinct travel preferences, which Thailand is positioned to target. Thailand and Korea have tourism promotion activities in place to enhance travel between countries. Thailand is within the same time zone in the APEC region and only a 5 hour flight away. Thailand offers many holiday options which Korean Tourists prefer such as beach holidays, city breaks, cultural holidays, and wellness retreats.
Hoteliers can target Korean outbound travelers with ONDA. They offer a good critical mass of hospitality service providers on their platform. ONDA uses technology and digital marketing in clever ways, whether it's making travel and Hotel services bookable through mobile applications or influencing the public using Website Portal's and Social Media.
Korea provides an alternative growth market for Thai Hoteliers. ONDA provides unparalleled access to this market. Don't miss the chance to communicate with Korean customers through ONDA's GDS. For more information about how to connect with ONDA Please contact: [email protected]