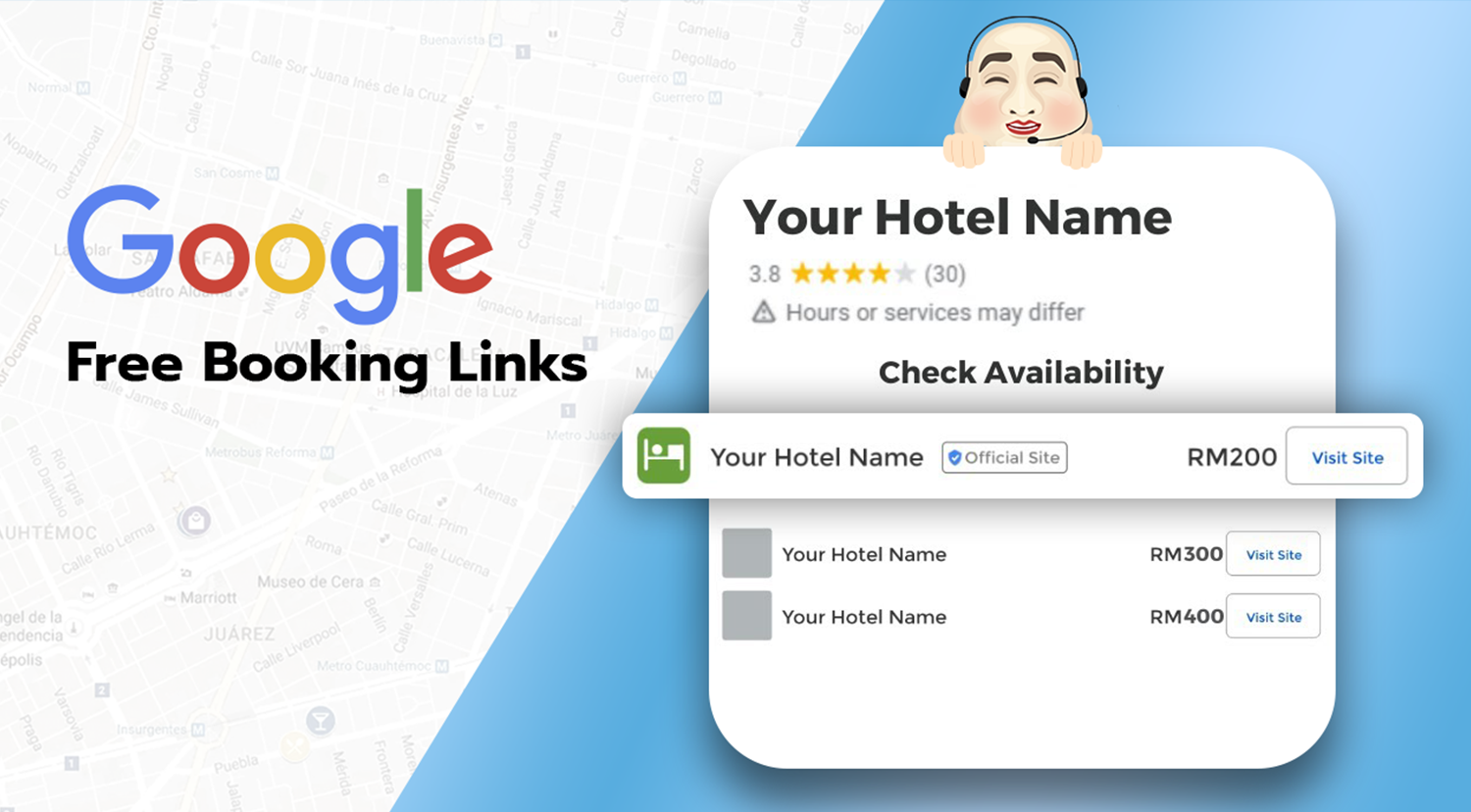 Google Free Booking Links 101 - What you should know
INTRODUCTION:
Hoteliers – have you ever wondered how to get your hotel listed in a popular search engine like Google without doing SEO marketing?? Does it frustrate you to rely almost exclusively on OTA's for hotel bookings because driving more search engine traffic to your website can really be difficult without a huge advertising budget?
With a share of more than 90% of the search engine market worldwide, Google remains a top priority for OTA's and hotels looking to drive more traffic and hotel bookings. The challenge has always been how to get your hotel listed in hotel search results dominated by big hotel brands and online travel agencies (OTA's).
Though it's been a frustrating time for any hotel falling into one of the categories mentioned, there is some good news that will interest you, especially if you are an Independent or boutique hotel.
POLICY UPDATES TO GOOGLE'S METASEARCH:
In March 2021 policy changes were announced at Google for its Metasearch Platform. These changes affected all hotels. Suffice to say, the most impacted by the change were the small and medium sized hotels.
Why small and medium sized hotels? Because history tells us that if any hotel wants to position highly in Google's organic search you have to spend a lot of time and money doing SEO promotion, just to be seen on the first page. And SEO does not come cheaply especially for small and medium hotels.
Therefore, with recent changes many hotels are now able to get listed more easily and at no cost. The new service is being marketed as "Google Hotel Ads - Free Booking Hotel Links''.
For hotels, the move ushered in one of the best opportunities to be listed in Google's search results. It's made it easier to drive qualified traffic to the hotel's website. The policy updates give the hotel a better chance to pitch for search engine position, allowing them to compete with OTA's in brand name searches.
Today, whenever a search engine user types the name of a hotel into Google's search box – the search results will come back with the hotel name and its location and a link back to the hotel's direct booking engine. Of course, within the same search results you'll find rates offered by OTA's that are contracted to sell the hotel. Best thing is that the hotel will appear in the same set of results, that once was only reserved for OTA's.
LET'S CLARIFY - WHAT'S A META SEARCH?
A metasearch, is otherwise known as a search "aggregator".
To be sure, a search aggregator is a search engine that sends out queries to other search engines and collates the results that come back into a master list or shortlist. The results will show up on a page with summary information. The summary information may have a title and description – together with the source where the information came from and links, so the user can navigate their way off page to where the source is found. A concise report like this makes it easy for the user to evaluate the information and choose the most ideal set of results for their purpose.
Providing useful, qualified information and a choice of purchase options like this to the end user, is Google's way to provide better service and an enhanced user experience and hence the rationale for offering the service in the first place.
GOOGLE'S "FREE BOOKING LINKS"- WHAT IS IT?
It's a free listing service on Google's Metasearch platform designed especially for hotels. Hotels appear in branded name searches using the hotel name and in Google Maps relevant to the hotel location.
To be listed, the hotel must first claim their business name and location with Google Business in order to use Free Booking links. For more information about Google's Business Listing service, see the link: https://support.google.com/business/answer/9178356#verify
If the hotel has claimed its business name and location, Google will already have an overview about you, your location and business profile. In this case, whenever someone uses Google for a Hotel search and (for example) types in the name of your hotel – the Free Booking Links service will kick into action and offer your hotel to the user in search results. (Note, that the search results are very specific and work for branded searches)
If someone types in the name of your hotel, the resulting page will show information about your hotel, its location and website - marked with an "Official Site" badge. Results appear below or after Google Hotel Ads, and also in Google Maps.
Note that some hotel's may not have their rates shown in search results. This may occur when the hotel has chosen not to participate with an integration partner to push out rates.
As an example, what the search engine user will see is results similar those displayed on metasearch platforms like "Kayak" and "Trivago". In a similar search scenario with Google, rates and availability will be pulled in from a number of online travel agencies like Booking.com, Expedia and Trip, together with the hotel's own website, giving the search engine user plenty of flexibility in their choice of options.
HOW DOES AN OTA APPEAR IN THE SEARCH RESULTS?
The simple answer is that most OTA's pay to be seen on Google's search results. Because OTA's spend Huge sums of money on paid advertising it's not surprising they will appear at the top of search results.
OTA's will only appear at the top of the search listing if they happen to be bidding the hotel name using Google Ad Words service. Expedia and Booking.com spend billions of dollars each year bidding on placement in search results by bidding on the best position and paying a cost per click, which is usually between $1 and $3.
When Google announced their free booking links program in March 2021, it gave hoteliers a better chance to participate in the overall search process. Google's metasearch does not require an ad budget to be listed. To differentiate Ad Words from Metasearch – the metasearch part will be shown on the same results page just below the Paid Ads. The differences can be said to be cosmetic, but it gives the hotel more options to pitch to search engine users, who also have the option to navigate their way directly to the hotel's website.
For many small and medium independent hotels, Google's Metasearch is a great alternative to paid Hotel Ads which is an expensive marketing choice.
HOW IS THE ORDER OF HOTEL LISTING DETERTERMAINED?
Listings for free booking links usually appear below paid OTA listings, so search engine users may need to click "view more rates" to see your hotel rates but sometimes they do appear in the top four links.
The good news is that configuring your free hotel booking links is pretty straightforward when you use one of Google's preferred connectivity vendors like Hoteliers.Guru.
HOW TO GET YOUR HOTEL FREE LISTING WITH GOOGLE:
First, you need to ensure that you have claimed and verified your hotel's name and location in Google's "My Business Listing". The Google My Business listing will be the same as your Google Maps listing. You can easily claim the listing online on business.google.com.
If you need to verify the listing, you will need to complete a verification process over the phone or by verifying receipt of a postcard that Google sends to your property's address.
Once you've claimed and verified your GMB listing, then you can work with a connectivity partner (channel manager or property management system) to link your hotel's rates and availability to Google's Metasearch Platform.
GOOGLE'S FREE LISTING PARTNER:
As of now, any eligible property can have their rates and availability synced from their Booking Engine or Channel Manager through an integration partner - such as Hoteliers Guru. Most integration partners will by default offer to push the hotel's direct booking rates to Google's Metasearch platform as well as to Google Maps.
MAXIMISE GOOGLE FREE BOOKING LINKS FOR BETTER PERFORMANCE:
Hoteliers should aim to do the following in order to make the most of their Google Listing:
Competitiveness remains important so make sure and check your rates and compare them with other channels making sure your website has the best available rates;
Optimise your Google My Business: Make sure your listing is always up-to-date, with the right photos, the right content, and with a 100% score.
Optimise your website and booking engine: If you're on top of the listing but your site is not user-friendly, nor has appealing content or photos, do you think your visitor will book? Probably not. Make sure your website is fully prepared to give the visitor a great experience (refer to our best article about this)
Do you really need to work with so many distribution channels? A healthy mix of distribution is vital for a successful business, but select only those you work with that are producing? One thing to bear in mind is that the fewer channels appearing here, the higher the chances are of your listing being more visible.
CONCLUSION:
Google Hotel Free Booking Links, provide the opportunity to increase your hotel visibility and subsequently direct bookings. Google's new metasearch policy provides hotel partners with better visibility through branded name search and enhanced traffic to the hotels website. Overall the changes translate into a new opportunity for hotels to compete with big OTA's. More traffic means better bookings opportunities and better yielding room rates.
Hoteliers Guru offers Google Hotel Free Booking Links by default to hotel partners that subscribe to our Direct Booking Engine and Channel Manager. Once the hotel has completed the connection process, they will be able to see their rates and availability appear in Google's metasearch results.
For more information about Hoteliers Guru - Guest Acquisition Services and the benefits we offer your hotel
Please get in contact with our Sales team: Bangkok 099 419 8735 Phuket 070 095 7437 or by Email: [email protected]