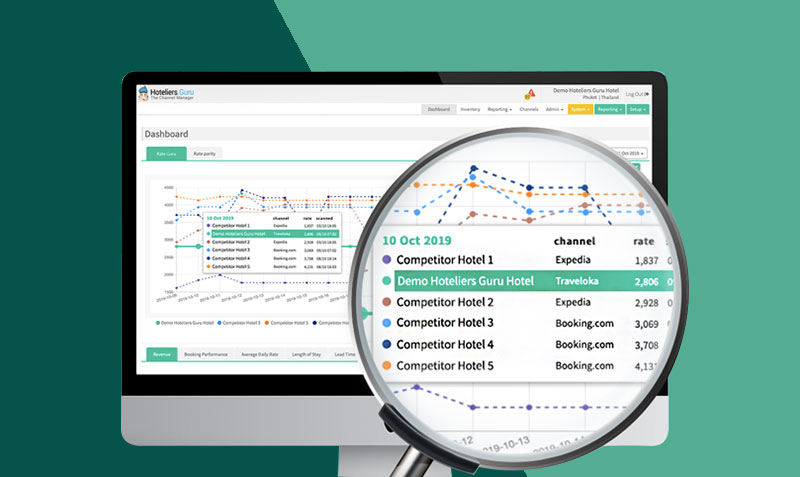 Dynamic Rates & Hotel Price Intelligence
Before the internet, the availability and price you'd expect to pay for your hotel room was driven by and large by static pricing. And by Static – I mean not changing very often!
Fast forward to today, and we can see how the internet and digital communication has impacted static rate pricing – making it all but redundant.
Static rate pricing has by and large been replaced by dynamic pricing. The word "dynamic" is the term widely used by the hotel industry to describe the way they maintain and update their price and room inventory.
Dynamic because many of the on-line distribution platforms' that hotels push information to have the flexibility to update the information in real-time, "more accurately" matching supply with demand based on market conditions, seasonal travel and specialty holidays and events.
BACKGROUND - WHY THE FUSS :
During the late 1990's and early 2000, it wasn't difficult for hotels to stay on top of the game. Maintaining a price regime was easy, simply because people weren't digitally connected.
Paper contacts which sealed the commercial agreement about how hotel pricing information could be used and distributed by partners have become a legacy practice and almost redundant in today's digital economy.
The Mobile and the Internet – affectionately "the mobile internet" empowered industry players to make the entire ecosystem of contracting and distribution much easier and with less friction across and between multiple channels.
Add to the mix, the impact Online Travel Agents (OTA's) with their unlimited budget for promoting travel with search engines, and a pool of available hotels – not to mention an easier way to book, then the hotel's own website and you witness a revolution. OTA's helped revolutionize travel buying using technology to make it fuss free, encouraging travelers to become switched on about their travel journey planning process and especially how to data mine hotel prices.
DYNAMIC PRICING :
Hotels have been fast to recognize and embrace change. Digital distribution and dynamic pricing is common in today's hotel industry with revenue managers staying ahead of competition by fine tuning their inventory and pricing information in real-time through 3rd party distribution platforms, hotel channel managers as well as the hotels direct booking engine.
By recognizing where we are in the world of inventory and rate distribution – the question now becomes whether the price being charged is a fair representation of what the market will bear.
Let's face it – no one will argue that in today's dynamic world - price matching isn't important.
- Am I offering better value than my competitors?

- When did my competitors prices go up?

- How often do my competitors discount?

- What are long term price trends?
Although it's easy to conduct your own ad-hoc research to get up to the minute data about price – it's hard to do it systematically or methodically over time.
Also, most 3rd party agent websites, hotel channel managers and the hotels direct booking engine do NOT provide price intelligence information. This or course means that keeping up with the market has its challenges.
In reality, it can take hours and in some cases days to understand where to source information or how to interpret and collate the information. Then there's the challenge of keeping it consistent and staying ahead of trends.
PRICE INTELLIGENCE SOFTWARE :
One way to keep ahead of dynamic pricing, in this brave new world is to use price intelligence software - such as a Rate Shopping Tool. Price Intelligent Software packages are designed to solve many of the time-consuming tasks of gathering information and presetting it in a usable format.
The tools are designed to help you optimize and plan your rate strategy to maximize profitability, depending on seasonality and changing demand trends. By choosing the information you want and its source, you can be sure that the reporting and data you get back is consistent over time, allowing you to compare "apples to apples".
Empowerment though technology, provides you the "visibility window" to explore how your prices match-up against your competitor's now and into the future. Best thing is you can use the information to put you in the driving seat of your hotel pricing strategy.
WHY YOU NEED IT :
The Hotel Rate Shopper is your price intelligence software tool. It's called a Rate Shopper because of the way it goes out into the web and shops around for hotel price and keeps a record of the prices its found.
Being consistent and methodical is paramount to determining, setting and maintaining a price regime over time. Rather than conducting ad-hoc surveys or maintaining an XL database of rate / pricing information, which can be subject to lose or inconsistent data collection - the Rate Shopper gives you the flexibility to set the parameters of pricing and competitor analysis to go out and source the information - ensuring a consistent and reliable collection and reporting of data.

Rate intelligence reporting tracks back information about real time price changes that take place at the hotels within the area you operate. Having this information on hand, allows you to fine tune your own rates to ensues you are not missing out on market trends as they happen or pricing yourselves beyond what the market will bear.

The Rate Shopping Tool not only showcases the most recent information about price within the surrounding area, but it also collates and keeps an audit trail of price data information. The information can reveal a history or pattern of room rate pricing trends that happen in a particular time across the industry. With the reports on hand, you can be confident in making informed decisions about when to raise or lower your prices according to predicted trends that happen over time.

Notifications serve as instant reminders when there are changing trends in the market. The best part is, you have the ability to determine your own rules for when you should be notified of updates. This means the Rate Shopper Tool is going to work to the advantage of your property, allowing you to set the parameters you want based on hotels within your areas and within your market segment.

Forecasting your hotel rates over time can be a daunting and cumbersome process to get it just right - even for the most experienced hotel professional. Given this fact, you may opt to avoid forecasting for fear of making mistakes. Yet today with the right room rate comparison tools, much of the grunt work of collating, preparing and interpreting rate data information commensurate with long-range forecasting is made easier.
IN SUMMARY :
When you need to keep track of dynamic rate pricing or how your prices compare with similar hotels in the area – you'll want the latest Price intelligence Wizardry. The Rate Guru from Hoteliers Guru is on your side and provides the pricing intelligence to allow you to be better revenue managers.
Coupled with the Hotel Channel Manager, and you'll have the most up to date software solution to take charge of your Pricing Strategy and confidently make quick, informed and tactical rate pricing decisions to stay on top of the game.
Try The Rate Guru now absolutely Free for 30 days ...