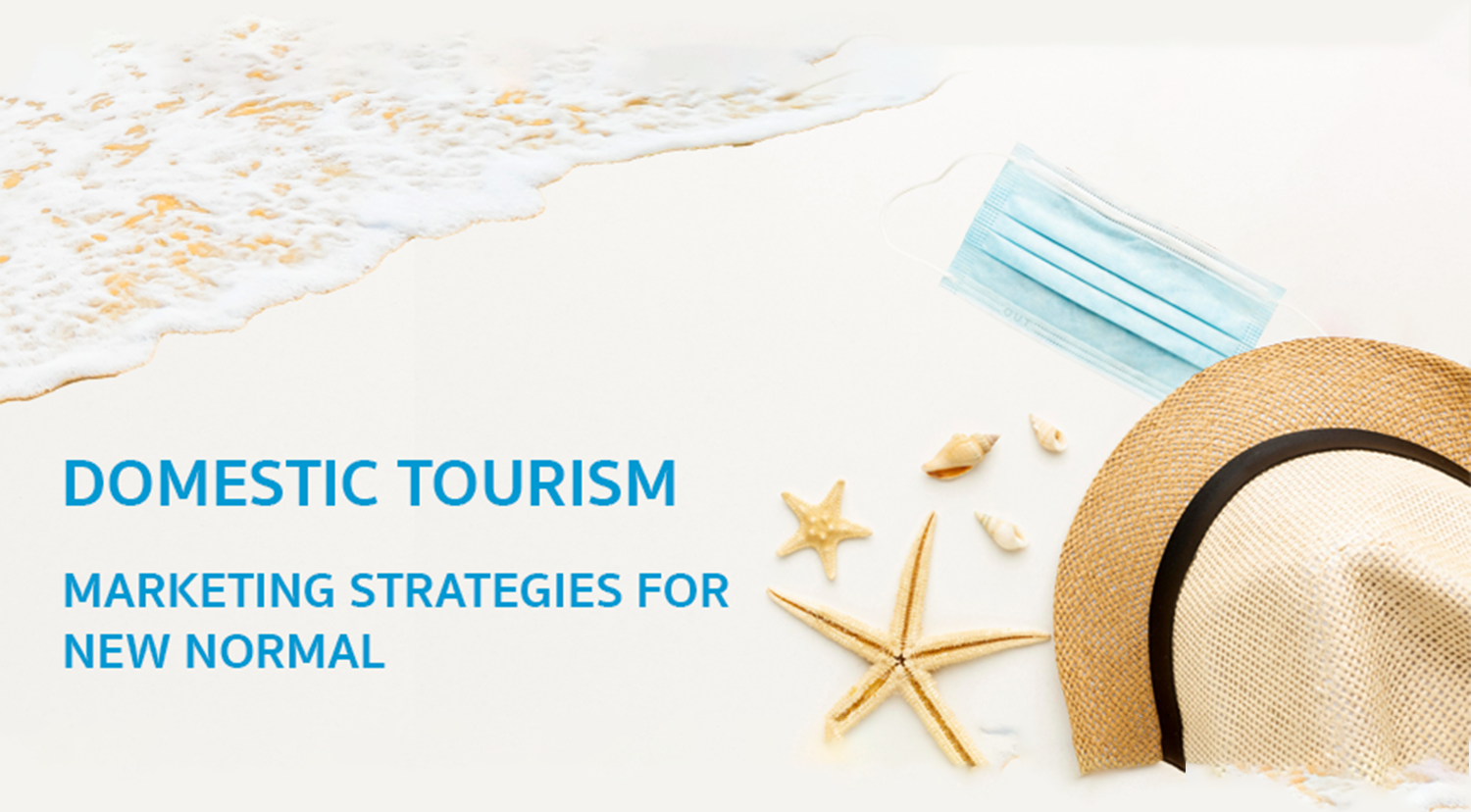 DOMESTIC TOURISM – MARKETING STRATEGIES FOR NEW NORMAL
Hoteliers should be thinking about embracing a new mindset in sales, marketing, and distribution to be effective in the new normal. Let's face it before the CoronaVirus, two thirds of hotel bookings came from international tourists so while there's little hope to kick start that market anytime soon, the next best thing for now is Domestic tourism. 
With this in mind, hoteliers need to put domestic tourism at the forefront of their marketing plans. But it's not as simple as it seems. The travel environment is volatile and people are edgy especially about whether it's safe to travel. So rather than use an existing Marketing Plan, it's a good to rethink and fine tune our Marketing Mix making sure we're being as effective as possible in targeting Domestic Travelers, in the "new normal". 
DOMESTIC TOURISM – SIMPLE FACTS & WHY HOTELIERS SHOULD PAY ATTENTION:
Thai's travelling domestically can choose to have their hotel accommodation partially funded by government subsidy, up to 40 % the value of hotel bookings. So, whilst the Covid crisis has been the driver of discounted hotel rates and promotions making it more attractive to travel than ever – the government subsidy gives them the extra push they need to actually do it.
And it's for this reason – hoteliers want to pay special attention.
Let's remember too that domestic tourists can travel more frequently, so the chances of keeping up a constant revenue stream from the flow of Domestic tourists from different regions is a good thing for hotels. Also, domestic tourists are less likely to be affected by the "seasonality of travel" (compared to their International counterparts) making them easier to target year-round with packages and promotions.
DOMESTIC TOURISM – REVISITING OUR MARKET MIX STRATEGY:
Faced with a volatile travel environment and the New Normal, hoteliers need to understand what the challenges are facing them and the possible solutions that need to be implemented in order to drive business back to their property.
Looking at our "Marketing Mix Equation" is an important place to start the brainstorming process to develop ideas and come up with new strategies. Changing the Marketing Mix Equation according to where we are in the market, allows us to be more effective in targeting Domestic Tourists, using Sales and Marketing Tools and our direct and 3rd party distribution channels. 
(For example, it's no longer possible to sell our rooms to Wholesalers or Travel Agents due to restricted travel or Pitch our hotel to International OTA's – so what's the next best thing to replace this with ?)
THE MARKET MIX EQUATION:
1.
SEGMENTATION –
(Market Mix: Domestic Tourist & Unique Profiles)  Let's explore the domestic traveler and their unique buying habits so we can refine our Marketing Mix to become more relevant to them.
Example A - There's a good chance the Domestic traveller may be familiar with the destination and the range of accommodation available, having already visited the destination or live in a province nearby. 
In this instance hoteliers can consider that local advertising in radio, TV, social media, play an important role helping give more notice to the hotel whichever province they are located.
Example B - Domestic travellers can call the hotel, speak the same language and ask about rates, packages and promotions.
Hoteliers want to pay extra attention to staff on the front line and their "Sales Canvassing" skills because they play an important role in converting FIT contact points into sales.
Example C - Social Media, and the domestic traveler: In this instance "Influencers'' can play a role by conducting a review of their experiences and posting it on Facebook or YouTube. Thailand has a Huge Social Media following and it's likely many Domestic travelers sign up to "follow" any number of the many Thai "Travel Fans" who write blogs about their travel journey. 
In this instance, hoteliers can reach out to local Thai KOL's on social media to conduct influencing campaigns that project hotel awareness to drive direct bookings.
Example D - Domestic Travelers may be influenced by their friend's recent holiday experiences at the hotel and could influence them into making a booking at the hotel.
Here's the perfect example of where it pays for the hotel to keep in touch with their customers by monitoring feedback and reviews on 3rd party OTA websites or on social media. Hoteliers can be proactive by sending out direct market solicitation (email / loyalty / program) etc... especially now, where first person contact is more valuable than ever!
All in all - the takeaway is that domestic tourists have many factors that influence purchase decisions that may differ from international tourists.
2.
SALES, MARKETING & DISTRIBUTION
(Activities / Tools & Channels): Hotel sales, marketing and distribution strategies (the marketing mix) depend on how hoteliers choose to position their property. Things like location, price, service and amenities etc … play a key role. So consider, before the pandemic, what the typical hotel's Market Mix positioning strategy might look like, without going into too much detail:
Market Segment Example (Domestic & International) 
FIT – 5 %
Leisure - 20 %
Corporate - 10 %
Loyalty - 10 %
Travel Agent - 15 %;
Groups - 20 %;
Meetings & Incentives - 20 %.
Market Segments - 100 %
Sale / Marketing & Distribution Strategy (Marketing Mix Equation) 
Direct Channels
FIT - Walk In >> Direct Sales Canvassing (Front Desk / Reservation);
Search Engine Marketing >> SEM Search Engine Leads Driven (ROI - Website / Social Media);
Website & Booking Engine >> SEO Organic or Direct Link (Rates / Packages / Promotions);
Loyalty Programs >> eMail / Newsletter / Tele Canvasing (VIP Promotions & Incentives);
Social Media >> Facebook / Instagram / Twitter / LinkedIn (Posting & News Update)
Corporate Sales >> Telecanvassing, eMail (Events / Luncheons / Dinners / Promotion).
3rd Party Channels 
OTA - International / Domestic Branded Websites (Agoda / Expedia / Trip / Airbnb)
Travel Agency Contracting (Flight Center / Web Beds / Hotel Beds);
Wholesale Group Contracting (JTB / Kuoni / Ving / Pegas)
3. BRAINSTORMING IDEAS NEW NORMAL (Establishing A New Market Mix Equation) The way we choose to define our marketing mix and the distribution channels we use, provides us with a clear picture of our business model. So – right now for example, International OTA's, Travel Agents and Wholesalers – once the as a source of two thirds of hotels bookings, no longer exist directly impacting the following segments: Leisure / Corporate / Meetings & Incentives & Group travel.
By removing them from the equation, we're left with little to play with – leaving only the Domestic and Leisure market. Not even Corporate Travel (on a local level) cannot help shoulder the burden of domestic leisure, simply because of the volatile travel environment and the aversity corporates have about putting their staff at risk.
Therefore, to make up the loss, Hotels need to change their Market Mix Equation – seeing them pitch their property through Direct and 3rdParty "Domestic Channels" in the following ways:
3rd Party Channel – OTAs':
Before we make the case for going direct, let's remember that 3rd party OTA's remain relevant for Domestic Tourism. That's simply because OTA's are hotel room / rate aggregators and can crowd source their customers through search engine dominance.

So the 1st component of the hotel's marketing strategy is to keep in mind the relevance OTA's have in the marketplace.  But it goes without saying that only a select few can offer market relevance to help drive business in Thailand – namely: Booking dot Com, Agoda and AirBnB.

Direct Channel – Web Site & Booking Engine:
The 2nd component in the sales and marketing equation, will come from the Hotels own Website and Booking Engine. And there's a simple reason for this being the government sponsored travel subsidy, designed to help boost direct bookings. For example, "Rao Teaw Dua Gan" is aimed squarely at throwing money at domestic travelers by incentivizing them with a 40 % subsidy for booking their stay directly with the hotel.

Since the government subsidy is based on public registration, hoteliers should consider ramping up their Website and Booking Engine as well as registering to participate in the program. Its instant access to a qualified pool of leisure travelers and without having to do any heavy-duty sales of their own – making it a given that hoteliers will want to consider.

Direct Channel – Social Media (and the Booking Engine):
Another direct channel, and the 3rd component is Social Media. Thailand already has good internet infrastructure and smartphone usage combined with wide social media coverage, making the platform useful in targeting domestic tourists.

Facebook & Instagram are popular as is Line and Twitter. For example, Hoteliers can use the social media news feeds and regular posting to engage fans – something you can't do with a website!

Moreover, Social Media pages can be packaged together with Point of Sales features like the Direct Booking Engine to ensure anybody engaging the hotel through social media has the opportunity to complete their booking in one place without having to switch between applications.

Finally, Hoteliers can use Social Media platforms to engage domestic travelers through Key Opinion Leaders (KOLS). For example, a travel blogger or photojournalist can be invited to conduct reviews of the hotel to encourage domestic travelers to book their hotel – having reviewed a favorable recommendation.
CONCLUSION: 
For hoteliers, the current tourism environment makes finding the right dynamics of Sales, Marketing and Distribution challenging. 
Whilst Thailand has been attracting International visitors for years, there's never been a better time for Thai's to explore some of the many tourist attractions the country has to offer. Best of all, government sponsored subsidies have already proved successful and incentivize people to go out and explore the country making travel more accessible. (something international visitors have had to pay a lot of money for in doing the same things)
Having launched in July 2020 the "Rao Pai Teio Dua Kan" promotion provides an important backstop for every hotel that wants to dive deeper into the direct channel. Not only has it been attractive for hotels to sign up to but there's every change that it could be extended beyond the April 2021 deadline.
With international travel restrictions in place and the potential of future outbreaks very likely, we'll see market volatility for some time to come making it difficult for hoteliers. With only domestic travelers in the market, hoteliers should take a proactive role in managing their Market Mix carefully using selected OTA's their website and social media (direct channels) to drive business to their property.
HOTELIERS GURU – OUR CONTRIBUTION IN THE MARKET MIX (FOR HOTELS):
Hoteliers Guru is proud to have be chosen under the promotion to provide Direct Booking Engine Services for Hotels wishing to join the "Rao Pai Thiao Kan" promotion "เราเที่ยวด้วยกัน" 
The Hoteliers Guru Direct Booking Engine will enable participating hotels to access the special features offered under the program with direct POS payment to Krung Thai Bank.
As a partner, we have established a payment gateway directly with Krung Thai Bank - so customers booking their hotel will have their bookings automatically deducted for them under the promotion guidelines. Our booking engine can be integrated into the hotels own website or Facebook pages for the seamless conversion to sales.
In order to participate in the program - hotels need to first register their interest at the website here: https://www.เราเที่ยวด้วยกัน.com
For Hotels using a Booking Engine Platform not compatible with campaign guidelines - please consider upgrading to Hoteliers Guru Booking Engine Service. 
For more information about how to connect your Hotel, please get in contact with our team: Bangkok 419 099 8735 Phuket 070 095 7437 or by email : [email protected]