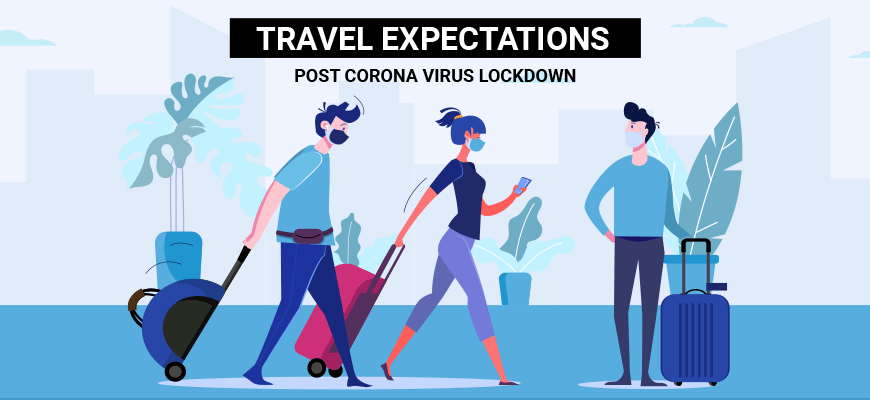 TRAVEL EXPECTATIONS - POST CORONA VIRUS LOCKDOWN
After 2 months lockdown in Thailand, we've been fairly lucky to get our public health situation under control and are ready to emerge from isolation. Great news ... But still so far there's been no agreement about how Thailand should re- join the global community or how cross border travel should be handled.
It's too easy to think that hitting the GO button will work. Hopefully the next 3 to 6 months, will give us better understanding where we're heading and its impact on travel and hospitality.
In the meantime - here's some ideas about the future:
Uneven Recovery:
Public opinion about the Pandemic is much the same and although no one likes it, not everyone is onboard about quarantine or social distancing rules.
Some countries in Western Europe, and notably the United States and Brazil, have been slow to heed the advice of medical experts. Even today, these countries are not fully in control or on a path to recovery.
In the meantime, others like Korea, Hong Kong, and Taiwan, offer a different picture. Korea, for example – was quick and able to mobilize the country's resources faster and with less resistance from the general public and got good results.
With the pace of recovery so different from country to country – how quickly we'll emerge as a "global village" is unclear and reinforces the idea of an uneven recovery. Why is this important? ... simply because to rebuild tourism to where it was, will take everyone's effort and participation.
Let's look at trends in the short, medium and longer term.
SHORT TERM
Hotels (Cleaning Up):
Many hotels have already begun to clean their public areas. But more than the cleanup alone, many hotels have used the opportunity to put a formal structure of Hygiene and Safety in to operational practice.
And that's a good thing, because the concept of Hygiene and Safety is fast becoming an important "yard stick" hotels are judged, so it's fundamental to build this into their DNA in order to rebuild businesses.
Hotels which have been quick to formalize plans are pitching the Hygiene and Safety concept at the forefront of Sales and Marketing. Over the next couple of months, especially as we begin to reopen – expect to see more properties come onboard with similar plans. Plans that follow "Best Practice Compliance" standards according to guidance published by local or international body (the Department of Health or the WHO) can offer some reliability and assurance to guests. Either way, it's better to have something even if its self-policing, then nothing at all.
Meantime, Luxury brands may prefer to pay accredited 3rd party agencies (like SGS or Bureau Veritas) to formalize an independent risk assessment. Implementing the guidelines recommended in an audit, should allow these Hotels' to qualify for a 'Shield of Compliance'. Robust standards like this are better than Best Practices alone and typical of the assurances needed by guest paying more for their accommodation – as well as serving as good PR.
Domestic Tourism:
Reviving domestic tourism to help fill the gap of international is one of the goals many countries are looking for until the situation gets better. After 2 months lockdown, many people should have a "pent up" desire to get out and explore. But as lockdowns continue, local destinations are perfectly positioned to benefit from the emerging local economy and can help "springboard" the industry out of hibernation.
Domestic tourism offers the advantage of being a closed ecosystem. With common safety guidelines already in place nationwide, it's easy for local governments to manage people as they travel place to place.
Airlines and Hotels are likely to offer a number of incentives to boot up travel and here's what to expect:
Social Formalities:

going public anywhere will involve wearing a facemask. This is the new normal as well as social distancing. You might also need Hand Sanitizer, maybe a Face Shield and disposable gloves. If you plan to Travel domestically, you may also want insurance, although it won't cover you against corona virus any longer.

Tracking Tools:

Wherever you are in Thailand, it's likely you'll need to subscribe to one or more tracking tools. Use a QR code, sign up and register on your smartphone. Designed to record entry and departure time, your GPS coordinates and contact information – the tools are supposed to be an 'early warning' system to let you (and public authorities) know if you've come into contact with potential risky situations.
MID TERM (International Travel)
Travel Bubble & Corridor(s):
The travel "bubble" or "corridor" – is a concept for safe international travel, first proposed by Australia and New Zealand. Think of it as a restricted travel zone, exclusive to members sharing common borders or having had similar success managing Public Health.
Any country wanting to join, would need to show success in quarantine and mitigation, as well as having a robust Public Health System to cope with any new emergency. The "bubble" or "corridor" is likely to gain popularity as governments look for ways to open borders - risk free and safe.
Health Formalities: (Getting to your destination) :
Other than what's been discussed, countries may setup administrative guidelines for "Risk Assessment" of foreign visitors. The promise it offers, is better than quarantine – which is very restrictive and useless for reviving tourism.
Under the program, border security would outline the requirements needed to gain entry. For example, in assessing the visitors "Risk Profile" the most important criteria is where you are coming from. Then, it may include a number of things, but almost certainly one of the two mentioned below:
Health Certificate:

Before entering another country, you may be required to prove your health status. Most likely it's a medical certificate saying you're fit to travel or clear of corona virus. A certificate or statutory declaration like this should be obtained by recognized public authority (although at this point in time – it's not clear how detailed or what requirements you'll need) before boarding your flight. If it's a corona virus test, then it should be performed within 48 hours of travel;

The Rapid / Quick Test: Already, there are several companies (internationally) that offer quick tests for corona virus, which can be done by swab or blood sample, with results being available within 15 – 20 minutes.

Doing a test prior to departure, together with your medical certificate should reduce your "risk profile" to zero and therefore eliminate quarantine requirements. However, it's still unclear how reliable quick tests are, whether they can be delivered in large volume and who should perform tests. The bigger question is also how much each will cost and whether it can be absorbed into the price of the airfare.

Tracking Tools:

Having arrived at your destination and similar to what was discussed earlier, foreign visitors may be obliged to subscribe to local tracking" tools. Tools like this are already is use in China, as well as here in Thailand. Similar tools are being developed by Apple and Google for the wider international community. Although, the tools are not intended to be surveillance trackers, many Westerners could resist using them for privacy concerns.
LONG TERM (6 – 12 Months):
Touchless travel:
Touchless travel from airport curbside to hotel check-in looks likely to happen sooner rather than later – because of corona virus. Exchanging travel documents and touching surfaces through check-in, security, and border control represents a high risk of infection for both travelers and staff.
Touchless automation across the entire ecosystem will become the new normal. Biometrics is already a widely accepted for identity verification, and their use will become more widespread with touchless travel.
Touchless travel options will include contactless fingerprint, smartphone keycards as well as iris and face recognition. Moreover, the technology for touchless data entry – such as gesture control, touchless document scanning and voice commands are already in place or are being refined further.
Health Passports:
Health is gaining new recognition and may very well be an embedded feature in all aspect of Travel. The concept of the Health Passport has actually been around for a long time, dating back 40 – 50 years. Back then, health passports were a yellow booklet showing your vaccinations which you needed to carry if traveling from countries in Asia or Africa.
Tomorrow's version – will be more sophisticated, merging health information into one document, which is your passport, that stores detailed information not only about you but about your health status.
Digital Traveler:
Both trends will likely merge into one Digital Identity and be the precursor to Touchless Travel. Pushing us in this direction is the World Economic Forum's "Known Traveler Digital Identity" initiative. The program brings together a global consortium of stake holders including governments and private enterprise.
In the post corona virus world – a traveler can request their digital identity information and store the information together with their health credentials, in a digital (identity) wallet. The data can be combined with information from public and private sources to complete your digital profile.
Right now, the test and screening formalities which take place at ports of entry can be challenging and difficult to implement on a large-scale basis. Under programs like this, travelers can consent to sharing their digital identity in advance of travel. Doing so, allows border officials to conduct their risk assessment before you get to the destination, so you can avoid bottlenecks for a more seamless experience.
Conclusions:
The recovery process will be uneven meaning tourism will return on a limited basis. International travel can happen if countries are on the same path to recovery and share common safety practices. Important measures like Social Distancing, Testing and Contact Tracing offers a level of protection that's workable – compared to quarantine, in order to help us get back to a more relaxed and safe travel environment.
Further out - all stakeholders (governments / airlines / hotels etc.) need to cooperate together to accelerate the use of digital technologies. Next, they will need to develop a cohesive policy and legal regime around the deployment of digital technologies that balance the protection of civil liberties and public health. The third challenge is to ensure that different digital identity solutions can operate together. The role of organizations such as the World Health Organization, the International Civil Aviation Organization (ICAO) and the International Air Transport Association (IATA) will be critical to align health and aviation priorities, guidelines and policies.