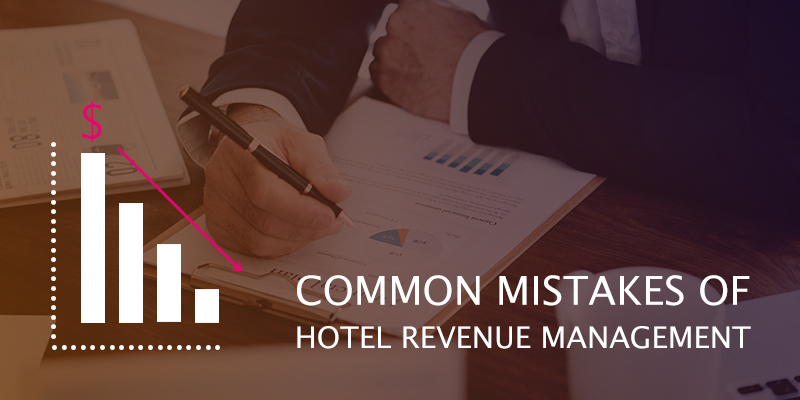 Common Mistakes of Hotel Revenue Management
Hotel managers understand that being successful is about maintaining a good relationship with guests, whist driving home a steady profitable revenue stream.
It doesn't just happen and certainly not on its own without keeping a close eye on the hotels internal and external environments.
Successful hotel managers always go back and evaluate their pricing strategy and the milestones they've set for room occupancy. Because the two go hand-in-hand the Manager should also pay attention to the on-going matrix of competitor offers, specialty trends and new technologies and devise ingenious ways to dynamically position and sell the hotel.
Hotel managers' should be careful to avoid making the 5 basic mistakes below in developing their revenue management strategy.
1) Timing & Seasonality :
Understanding the concept of time and timing is fundamental in Revenue Management.
Because it's a simple concept it's often overlooked and yet the intimate details involved in releasing information about your hotel to the public are critical to a Managers successful implementation of strategy. 
The price people are prepared to pay for the hotels room will depend on the supply and demand trends over time. Seasonality matters and the hotel will change rates a number of times during the year to reflect buying behavior and market conditions. This, together with the date and timing release of packages and promotions forms an integral part of the hotels sales and marketing plan.  
Because time and seasonality are important - the Manager has to carefully decide what the market is willing to pay for its rooms at any one time and be quick to update or vary rates based on the external environment.
To keep pace with seasonality, rate changes need to be implemented just in time. Being too early or late releasing this information can have a disastrous effect.
Putting it together, if the Manager is not wise to the timing or the timing window - they will fail miserably in positioning the hotel to compete effectively or maximize the revenue streams and quality of hotel bookings.
2) Static Pricing :
The second mistake the Manager can make is preserving a pricing strategy that remains constant according to seasonality through-out the year.
Technology, the Internet and the free flow of information empowers anyone and especially the hotels guests' (with access to a smart phone) to easily check rates, hotel offers, and preferred location, depending on their times of travel. 
Hotel manager cannot ignore or remain intransigent to the borderless playing field which technology is empowering its guest. 
A static rather than dynamic rate pricing structure, will position the hotel badly against competitors.
Managers can avoid this common mistake by adopting a more dynamic pricing strategy that account of both ordinary, the extraordinary and competitor pricing or specialty offers and technological trends.
If the hotel it not prepared to embrace or does not have a dynamic rate strategy - the complexity involved in getting the price just right during times of high or low occupancy becomes difficult.
Managers who have an "ad hoc" approach to pricing rooms (based on a marketing assumptions) will most likely fail.
Merely relying on "instinct" with no analytics or historical backing increases the chance of making mistakes as well as missing out on genuine revenue making opportunities. 
3) Maximizing OTA's :
Although hotels generally have a love hate relationship with OTA's – OTA's have wide scale acceptance and marketing reach.
The Manager may choose not to use them to the hotels advantage simply because they charge too much commission. This fact is of course the third mistake a manager can make being blind-sided in not recognising or acknowledging what the OTA's has to offer.
Let's face, it OTA's have the critical mass of available rooms, competitive prices - not to mention being a secure and easy to use platforms for customers to book their rooms - so it's easy to see how the hotel can exploit their popularity.
Moreover, OTA's position themselves with Search Engine and Meta Search Booking Sites guaranteeing the production of room nights not to mention being a "secondary flow-through"(feeder) for unique search engine listings which customers can make under the hotels own name
Managers need to take a holistic approach to managing their OTA relationship and therefore avoid the common mistake of listing whatever rate or package that suits the occasion.
Control inventory and prices across all channels and make sure you don't offer lower rates on these expensive 3rd party booking sites than your own website.
All-in-all, Managers should use OTA's for their global distribution and future demand trends, and most importantly stay in control!
4) Revenue Management Tools :
Hotel managers often under leverage the benefits offered from Revenue Management Tools. This is the fourth mistake managers can make by not devising their revenue and pricing strategy aided with he help of revenue management tools.
For example, through revenue management tools the Manager can evaluate the impact of the hotels pricing on both top and bottom line results much easier.
Whilst the application costs money – the advantages usually out weight the cost. Because of this it's also worthwhile mentioning that the software applications have been designed and appropriated by the hotel industry to drive better KPI's which in turn help Managers make more qualified decisions based on historic booking records and pricing discounts.
Implementing the right revenue matrix can help make the Managers job easier and "Bring home the bacon".
Because hotel revenue management is not a haphazard concept but a coordinated set of actionable decisions, revenue management tools can help the manager make better decisions based on the quantifiable financial matrix these tools offer.
5) Wrong Matrix :
Room occupancy is an important statistic in highlighting the demand of our hotel rooms. But on its own, it provides a narrow window about how well the hotel is performing and is useless without looking at rates. The ADR (average daily rate) and average occupancy over a 12month period can provide the foundation of most revenue management strategies. Yet adopting this variable on its own, is potentially one of the mistakes a revenue manager can make.
Although important, it's generally an over simplification to a more complex set of issues and does not look at the bottom line, especially profitability. In reality, we should also consider another matrix, such as 1. NRevPar (Net Revenue Per Available Room) or 2 GOPPar (gross operating profit per available room) Why? Simply because, theNRevPAR is used to calculate the net revenue generated per available room in a hotel, and not the total rooms, leaving out rooms closed to maintenance (or not available for sale) – for example.
Applying this statistic, more accurately factors the room revenue against the costs associated with selling that room. When used as a KPI, it provides a realistic picture of how successful the hotel is in making money from its available rooms in any given period.
Ignoring Guest Feedback.
Providing a room instead of an experience.
Having a Poor Website.
Being Unrealistic about our own expectations.
Obsessing about filling rooms during low times.
Focusing on high-growth markets, because that's where the money is.
IN SUM:
Successful revenue management doesn't happen without assessing and re-assessing the internal data matrix, our established KPI's and the broader external environment. In order to get smart with revenue management, its' important to keep an eye out for any efficiencies, or economies of scale we can gain through evolving technology, as well as making sure we maximise the profitably of other revenue streams such as F&B or Corporate Sales, whilst keeping a close eye on competitor pricing and market demand fluctuations.