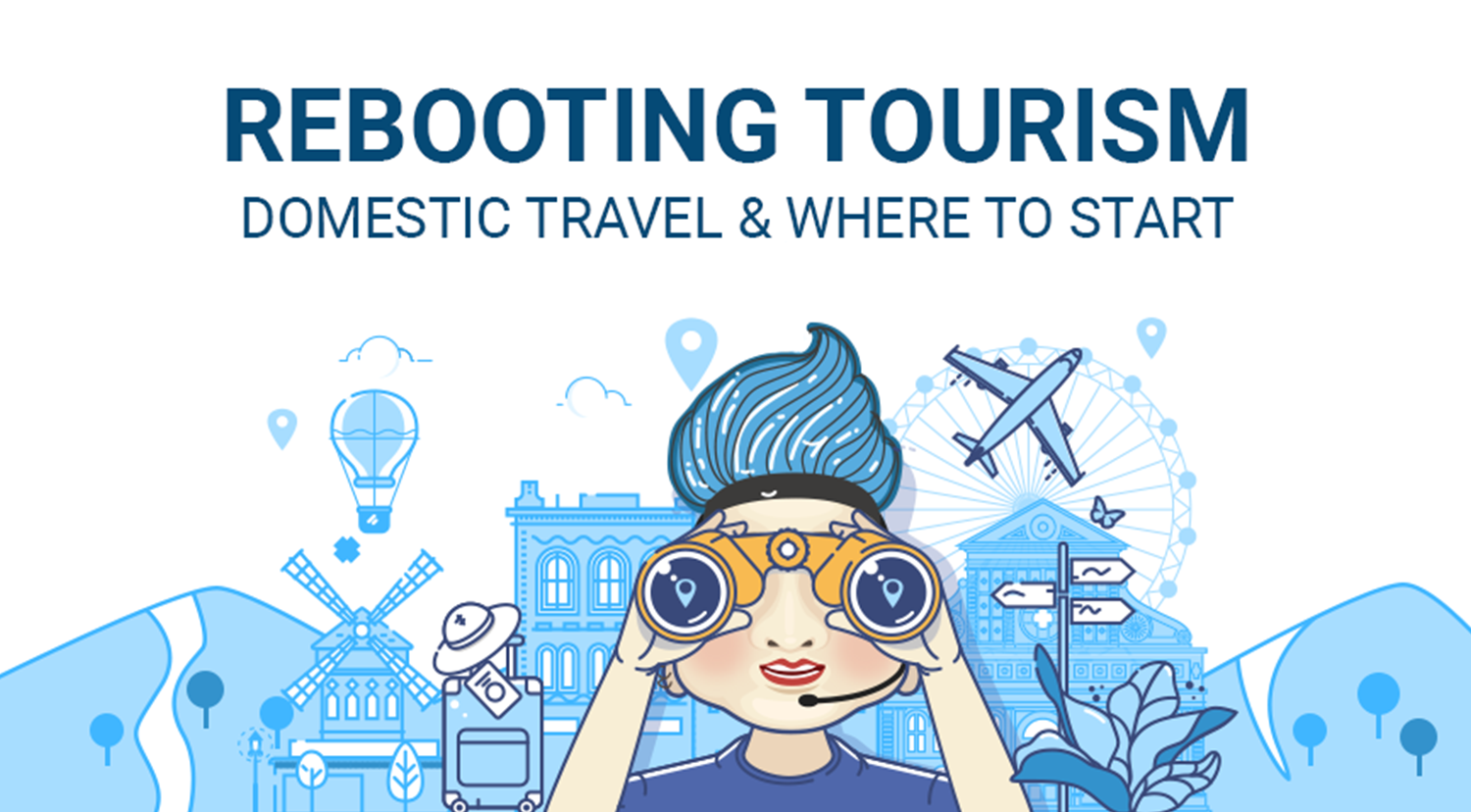 REBOOTING TOURISM - DOMESTIC TRAVEL & WHERE TO START
In this blog, we'll look at ways Hoteliers can capture the domestic tourism market with our tips and recommendations.
THE TOURISM REBOOT
The tourism reboot starts with Domestic travel. Thai's offer the best opportunity for hotels to recapture business lost to Corona Virus. it's a Win / Win for all - and here's why:
A Government subsidy covers 40 % of the real cost of Hotel accommodation;
The same subsidy is valid over the peak holiday season (when most people travel);
In addition to accommodation, another subsidy covers an amount for Air Travel;
Thailand offers a safe Covid free travel environment;
Domestic holiday makers have many possibilities to choose including: Beaches / National Parks / Temples / Camping / Wellness etc …;
There are countless travel options available to suite your budget.
With the profile of domestic travelers being much narrower - Hoteliers need to pitch themselves in new and ingenious ways by identifying the selling opportunities that appeal to local audiences using the same concepts of price, service and package to attract domestic buyers.
For all intents and purposes, rethinking the playing field may be necessary only because of the overwhelming reliance the industry has had on international arrivals.
The rationale goes like this:
"We need look at who we think will be travelling and classify them into user groups so we can evaluate who we should be targeting with our holiday experiences unique service and price to match expectations".
On that assumption … let's explore further:
STEP 1 – IDENTIFYING THE DOMESTIC TRAVELLER:
Below is an example of the unique profile(s) we can use. Doing so makes it easier to classify each type of traveller as either a stand alone or cross selling group. The process helps refine our sales and marketing campaign, in order to sweeten the package, service and price. For example: millennials + self employed + hyper-connected could be one targeted group whereas families could be a group on its own.
Examples of Buyer Profile:
The Millennials;
Families;
The Self Employed;
The Hyper Connected;
The Luxury Hunter;
The Culinary Aficionado;
Incentive & business groups;
Schools & Educational Groups.
STEP 2 – CHOOSE ONE OR MORE PROFILE GROUPS FOR THE BEST FIT SCENARIO.
Having identified the profile(s) we want, it's time to develop some ideas about how to market to them – as follows:
Do We Cater to Families?

They'll be looking for hotels that offer plenty in of children's entertainment but with equal measures of relaxation for parents. Ensure your hotel is offering families' packages and is highlighting the family friendly features of your property - such as pools, games rooms, and nearby theme parks etc. Also remember about aadjoining rooms – as a bonus convenience feature for parents which may come at a slightly higher price so you could sweeten the deal by allowing kids to eat free - for example.

Are We Targeting Millennials?

They're young, educated and upwardly mobile adults between age of 22 and 38 years. Millennials are very serious about travel and are informed – digitally connected to the world around them and know how to source information using tools and applications like: YouTube / Facebook / Instagram and Twitter. Millennials are interested in wellness, the environment and value for money. Even before COVID-19, these folks adopted a healthy and idealistic lifestyle, giving up alcohol, unhealthy foods, and impulse buying. Instead they spend their money on valuable experiences and quality time with friends and family. They have close family bonds and are happy to travel with their parents even in adulthood. COVID-19 will only amplify these characteristics. Target these travellers not with material promises, but experiences that will engage them and promote the return of socialising.

Do we pitch to Hyper – connected self-employed?

Social media platforms like as Facebook and Instagram have created a world of influence globally and especially here in Thailand. Many young Thai's have their own businesses and are hyper-connected within a digital universe. For the hyper-connected, finding a unique location to travel where they can broadcast their experiences on social media is important, especially in an economy where followers and 'likes" can drive bigger and better business opportunities. From a hotel's perspective - we can pitch to the Hyper-connected by offering unique holiday experiences that deal with nature, wellness or culinary experience pitched with a sense of exclusivity to make their travels worthwhile.
The rationale is to come up with one or more traveler profile(s) so we can "hone-in" on the people, with our service offerings.
Next … is developing a Sales and Marketing campaign around our Profiled Traveller.
Here's a list of 9 strategies and recommendations that can be the foundation a plan. (for the next step)
STEP 3 – IMPLEMENTING ONE OR MORE SIMPLE STRATEGIES:
Remain digitally connected:

Travellers nearly always choose online travel agents (OTAs) in the "search" phase (of their journey) What's important for your hotel is to be visible, or more visible, than your competition on OTA platforms. Booking channels like Agoda, Expedia and Booking dot Com remain relevant. Smaller OTA's may offer an opportunity to focus on local destinations – such as "segment identity marketing" Therefore, its worth keeping an eye for local OTA's that provide easy bookings to speciality places or attractions to draw in domestic bookings or those OTA's that cater to niche markets.

Take Advantage of Direct Bookings:

As the pandemic emerged in early 2020 and as a result of the headaches travellers experienced amending and cancelling their (OTA) bookings - we've seen a preferential shift towards direct hotel bookings. Hotels need to take advantage of the trend simply because it can reduce the cost of sale. Remember your booking engine is valuable for setting up deals and packages that will appeal to the travellers' you target. Make sure it's easy to use, mobile friendly and up to date!

Adjust Pricing:

Everyone has been impacted by Corona Virus, so it's likely your traditional pricing won't work in a distressed domestic environment. Thailand has had an overwhelming focus on international markets, so pricing to a domestic market needs a mind shift. Also keep an eye on what your competition are doing and be flexible and don't be afraid to be more tactical in updating at late minute. Remember to also have package rate options to add greater flexibility and value to your overall pricing structures.

Review Hotel Policy:

As travellers adjust to the new normal – they may choose less time on holiday or feel they may need to cash in and cancel or change their itinerary at short notice. Instil confidence in your customers and review your hotel policy to be more conciliatory and flexible. Doing so builds "goodwill" from the customer and gives them a reason to come back in future;

Connect to local visitor centres and tour operators:

Guests coming from other provinces will naturally research things to see and do while they stay at their destination. Work with local tourism bodies and tour operators to give your hotel a chance to be seen by travellers in the research phase of their holiday and they may choose to book with you straight away. Remember, they will have more trust in you if you are backed or certified by an official organisation;

Showcase - 'COVID-19' safe amenities:

Travellers will want to know exactly what you're doing to keep them safe. Questions like this will start to surround all the features at your property, so you have to factor this into your marketing and other public messaging;

Aim Bigger – Reach Out to Targeted Audiences:

Use Facebook and Instagram ads to target the groups of travellers you think would be suitable for your hotel and boost the ads to reach larger numbers of people. On Facebook, you are in control of how much you spend so weigh up the cost vs reward. You can also advertise with Google, which generally operates on a pay-per-click model. Google Hotel Ads is a fantastic way to ensure your hotel is seen by a lot of travellers when they search for accommodation;

You can also advertise with Google, which generally operates on a pay-per-click model. Google Hotel Ads is a fantastic way to ensure your hotel is seen by a lot of travellers when they search for accommodation;

Encourage 'long' stays:

In uncertain times, the goal is to get as much business locked in as possible. Consider offering long-term stay packages at a slightly reduced rate. People may need to isolate or have a temporary home to stay at. They may simply be looking to escape home for an extended period and could be working on keeping within an accommodation budget. Don't ignore the long-term customers especially in this environment;

Give Local Information & Recommendations:

Your hotel's website should be packed with local information, outlining some of the fun and interesting things your guests can do when they stay. Ask the local tourist boards for help compiling the information to ensure its accurate and in line with any campaigns or promotions they might be running. Local information is great content and will boost your search engine optimisation (SEO) efforts.
STEP 4 – MAKE SURE YOUR DIGITAL FOOTPRINT IS IN ORDER:
Maybe you planned to update your Website or Social Media but never had time? Now is the time to make time. Examples include -
Refreshing room photos and descriptions with newer information. It's likely that guests are going to be more health conscious - so share your news;
Your online booking engine should allow you to sell packages and upsell extras on top of bookings. … For example - think about the concept of selling sleep and how you can upsell relaxing extras such as an evening massage or a turndown service;
Look at the language of your room descriptions and instil confidence to guests that your hotel is a safe place to stay;
Set-up a newsletter subscription to keep guests informed of any deals and promotions;
Create videos or virtual tours of your property to use as marketing tool on your website and social media;
Use guest messaging apps (I.e. Line / Messenger / What's Appp) to make communication easier and more personalised.
CONCLUSION:
International tourism does not look like coming back until mid-2021. Right now, Domestic Tourism is the best chance for hotels to recoup lost income.
With only the domestic traveler in sight – Hoteliers need to think up new plans to inspire bookings from their website and social media pages. Thinking about who to market your hotel to and the lifestyle and service expectations each group may have for your hotel, will help you understand what price and package to offer. (we outlined this in Steps 1 & 2) Understanding this important criterion - can help pitch your hotel and services better using one or more of the marketing strategies, we outlined in Steps 3.
In addition, Hoteliers cannot overlook being part of and joining the Government Sponsored Domestic Travel Promotion. We mentioned this in the introduction and by tapping into an already qualified pool of travelers - it's a win / win scenario your hotel can't ignore !
Putting all of the pieces together, the most important thing to have in place before rolling out a Domestic Tourism strategy is to be able to execute your plans with the support of your Website and Social Media Pages backed up with the best Guest Acquisitions Tools - discussed in Step 4.
HOTELIERS GURU - HELPING HOTELS MEET THE CHALLENGES:
Hoteliers Guru is helping our customers make a direct impact and meeting the challenges of the new normal.
We're doing this with digital marketing – building clean, functional websites, packaged together with simple and easy to use guest acquisition tools. Case in point - our Booking Engine was chosen for the Domestic Tourism Promotion ("Rauw Teo Duay Ghan" - www.เราเที่ยวด้วยกัน.com) and is the only one certified under the campaign.
Having achieved certification under the Program, we are in a unique position to offer these services to Hotel customers. Hotels using our booking platform will be able to access some of the special features offered in the program, which also includes payment gateway POS clearing to Krung Thai Bank (the only authorized payment provider)
Recently enhancement to the system includes:
Guest being able to book accommodation in the province of residence;
And not having to book across provinces;
Not only will our platform inspire direct guest bookings, but it will allow hotel customers to have their bookings automatically discounted to reflect the 40 % subsidy under promotion.
If your Hotels is using a Booking Engine not compatible with campaign guidelines, perhaps it's time to upgrade to Hoteliers Guru. For more information about how to connect your Hotel, please get in contact with our Sales team: Bangkok 419 099 8735 Phuket 070 095 7437 or by email: [email protected]