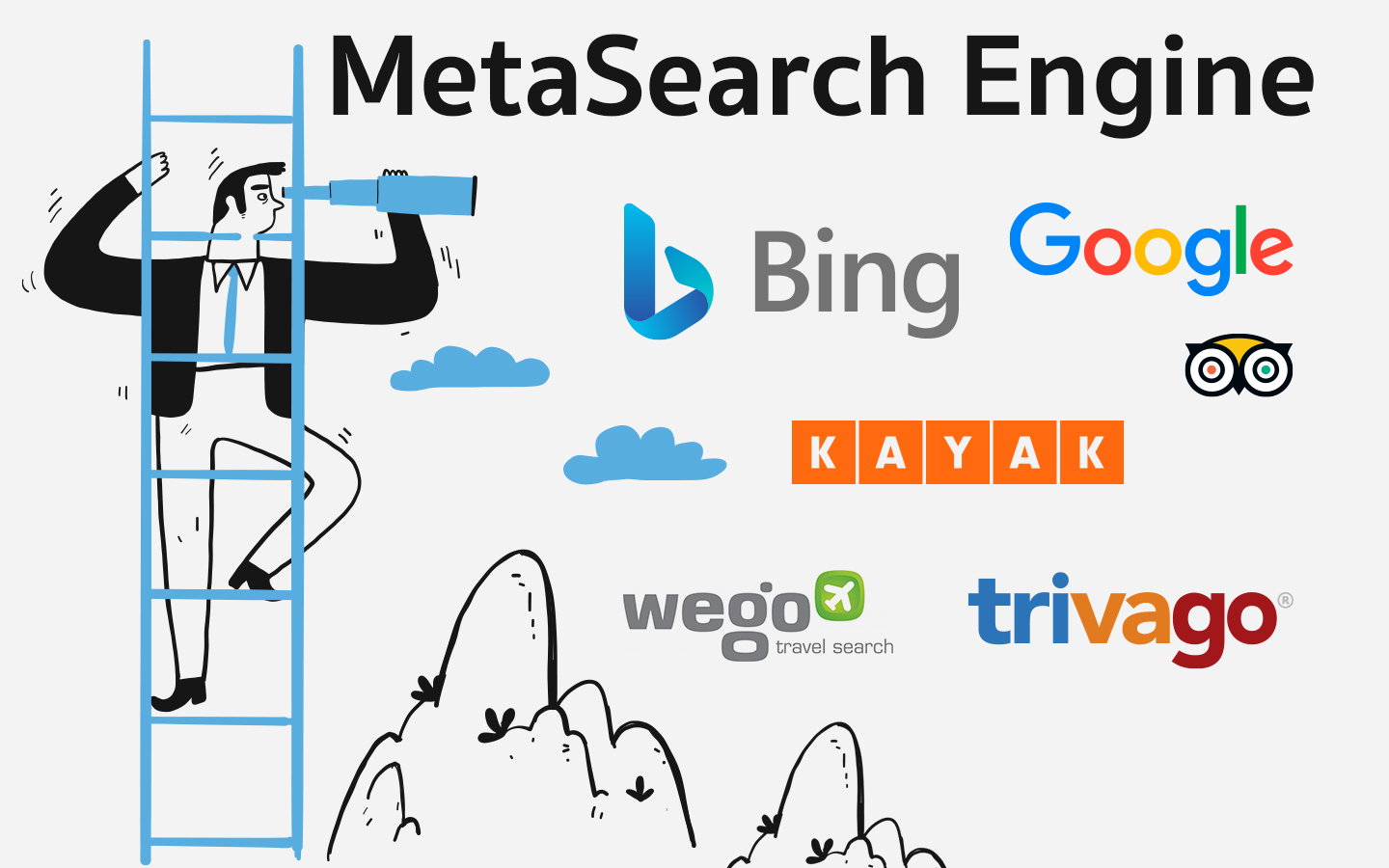 Meta Search Marketing For Hotels:
Planning a vacation can be a lot of work, so to save time and money, travelers are turning to metasearch platforms like Google Hotel Ads, Tripadvisor, and Trivago to search for hotels, do price comparisons, and find good deals.
Sometimes called "a search engine for search engines," the Meta Search engine acts as an information aggregator.With a hotel search – for example, the Meta Search engine collects information from various on-line distribution sources (like OTA"s) and displays the data collected in one place. The entire search process saves time and allows trip planners to compare hotel booking options in one place without having to navigate through many different websites.
POPULAR PLATFORMS:
Google Hotel Ads: According to Skift in 2022, Google accounted for 67% of all metasearch spending, and that means it should be considered as a top priority for Hotels. Google Hotel Ads (GHA) are integrated into Google Search results, including Maps, and Google My Business Profiles, providing unrivaled exposure for your hotel brand.
Tripadvisor: Launched in 2000, Tripadvisor is one of the original metasearch platforms. Today, it's still a popular travel site and serves as an essential source of traveler reviews. Tripadvisor offers a number of advertising options for hotels, including its TripConnect cost-per-click program, a commission model called Instant Booking, and Sponsored Placements.
Trivago: Launched in 2005 and purchased by Expedia Group in 2012, Trivago now works with more than 180 OTAs around the world. The site offers a cost-per-click model, in which the hotel is charged the amount it bids for each click, and a cost-per-acquisition model, in which the hotel pays a predefined percentage on the value of bookings. With either model, when users click on the advertised rate they are directed to the hotel's website to complete the booking.
META SEARCH COMPARED TO SEM:
While SEM (search engine marketing) is used to rank on search engine pages like Google, Bing, Yahoo etc … Hotel metasearch marketing uses meta search engines like Google Hotel Ads, Tripadvisor, or Trivago as the advertising channel to increase exposure, build awareness, and attract direct customer bookings.
DIFFERENCE BETWEEN META SEARCH & ONLINE TRAVEL AGENTS (OTA's) ?
The main difference is that OTAs provide room rates and booking options for only their own booking channel, whereas metasearch sites display rates for multiple booking channels – sometimes up to twenty or even more.
Another key difference between metasearch sites and OTAs is the booking model.
OTAs work on a commission model, typically charging hotels a percentage of the total booking value (room rate + taxes and fees).
Metasearch engines, on the other hand, work primarily on a cost-per-click business model, although most now offer a commission model too.
META SEARCH INDEPENDENT HOTELS:
For independent hotels, meta search marketing offers a number of advantages, including:
Broaden your reach. The more booking channels you list your property on, the greater your visibility will be through something called the "Billboard" effect. Imagine "billboarding" as listing your hotel in more places (metasearch and OTA's) so your hotel name pops up more regularly in hotel specific searches. This not only creates better awareness about your hotel but it also provides you more opportunities to solicit the customer's bookings.
Increase revenue and profitability. Travelers love hotel metasearch sites because they make it easy to compare rates from a variety of booking sources. For hotels, a metasearch strategy will get you in front of "high-intent travel shoppers", with the potential to generate bookings at a lower cost than you would through other distribution channels.
Compete with OTAs. Meta search engine advertising is crowded with OTAs. By listing on these platforms, your property will stand out from the crowd, attracting travel planners away from OTAs and generating those lucrative direct bookings.
Own the relationship. Unlike OTA bookings, direct bookings allow you to collect guest contact information at the time of reservation. You can start building relationships with guests right away using automated email communications like booking confirmations and pre-arrival messages.
Upsell and cross-sell. When travelers visit your website, you have more control over the booking experience. You can promote higher-category rooms, packages, and amenities that may not be available on OTAs, as well as additional on-property services like the restaurant, bar, retail, spa, and activities.
META SEARCH ADVERTISING - HOW DOES IT WORK?
Depending on the platform, hotels typically can choose between two meta search payment models: cost-per-click (CPC) or commission-based. In the cost-per-click model, also called pay-per-click (PPC), the hotel pays a fee to the meta search engine for every click that leads to its own website.
The hotel bids for ad placements to compete with other advertisers for a higher ranking in hotel search results, setting a maximum CPC fee or budget. Generally, the higher the bid, the higher the ranking, but other factors may also be taken into consideration, such as the room rate, ad relevance, and landing page quality.
Today most meta search sites also offer a commission option. This model is referred to as cost-per-acquisition (CPA) or pay-per-stay (PPS) option where hotels pay a commission, or a percentage of the room rate, on bookings.
With CPA, the advertiser will pay commission based on sales generated, not stays, which means the commission is due after a guest makes an online booking and is charged whether the guest cancels the booking or not. With PPS, the advertiser will only pay the commission after the guest checks out of the property. This is similar to the OTA model, although meta search commission rates are typically lower.
ON-LINE MARKETING & PERSONALIZATION AGENCIES:
Most meta search websites already allow you to evaluate your performance and compare it to your competitors', as well as seeing who your main customers are whilst monitoring their behavior on your webpage.
Companies like TripTease and Sojern take this one step further, offering marketing solutions that target your hotel's most valuable guests, whilst working to convert them throughout their entire travel journey.
Hotels that place a lot of value on their brand and prefer to be less dependent on 3rd party OTA's will most likely consider using a Marketing and Personalization Agency to help manage their Direct Bookings Channel. Both TripTease and Sojern provide AI-meta search bidding, paid search and parity management. They also offer website personalization tools, CRM connectivity, and reporting insights into advertising performance.
Services like "retargeting" employ a carefully curated messaging campaign designed to appeal to the traveler wherever they are in their travel journey. Retargeting helps to reinforce the messaging that may have taken place earlier, by reminding about the hotel, its booking options, and any special packages which may prove favorable to the traveler in the later stages of their travel journey.
To sum up, the personalization services which both agencies offer, are designed to help hotels prepare targeted messaging campaigns through the meta search ecosystem using either CPC, CPA or PPC advertising. Both are powered by hundreds of data points collected from user journeys', and collated at more than 10,000 hotels worldwide, to help identify the hotel's most valuable guests.
HOTELIERS GURU – META SEARCH COMPATIBILITY
HoteliersGuru Direct Booking engine is compatible with meta search aggregators such as Google Hotel Ads, Tripadvisor, and Trivago.
With respect to Google, which commands 70 % market share (as of 2022) this means any eligible property that has rates and availability synced to Google – like customers using Hoteliers Guru will have their direct booking engine listed as an 'official website' displayed on Google's Hotel Search.
With Google Free Booking Links displaying your hotel information to travelers across hotel searches on Google, you increase the chance of getting more direct bookings. That means, you control the guest experience on your site and collect the guest data directly without having to go through an OTA.
Meanwhile, hotels who value brand marketing and direct bookings, contracting a Marketing and Personalization Agency to manage the hotel's on-line direct bookings is advisable. Hoteliers Guru has connectivity relationships (through our booking engine service) with TripTease and Sojern, who offer a comprehensive set of data driven marketing tools designed to enhance direct bookings. Both agencies offer insights about the hotel's best-performing channels' and it targeted audience.
CONCLUSIONS:
Because meta search engines aggregate hotel information and rates from a variety of sources and displays them in one place, we're seeing them gain popularity over OTA websites.
Hoteliers should consider Meta Search marketing for their hotel. The easiest way to do this is to use a Booking Engine that is already synced with meta search platforms like Google or Trip Advisor. Based on search volume alone, because Google commands 70 % of all direct search traffic, it makes sense to have your hotel listed because its two thirds of the market.
Any hotel wanting an easy way to get into the Meta Search ecosystem, should consider using a booking engine like the one from Hoteliers Guru, because it feeds rates and inventory automatically to Google through the Free Booking Links program.
For independent and boutique hotels who value their brand, direct bookings and customer loyalty programs, contracting an on-line Marketing and Personalization Agency can be helpful in managing the hotel's Direct Bookings Channel through the meta search ecosystem. Agencies like TripTease and Sojern offer data driven tools and analytical services to help drive direct bookings and Hoteliers Guru has connectivity relationships with both. (Booking Engine compatibility with either one of these platforms is of course essential.) With strategic and data-informed management tools, meta search engines can become a powerful distribution channel for your hotel.