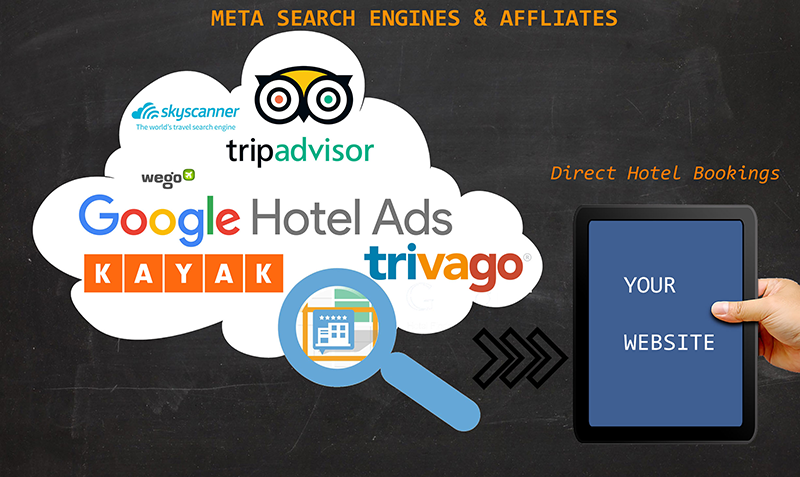 Meta Search for Hotels: Marketing Tool or Distribution Channel ?
INTRODUTION:
Before giving definition to meta-search, its useful to understand how the typical search process works
Popular search engines like Yahoo, Bing and Google – send a web crawler or (spider) to visit the many billions of webpages hosted on the internet. Spiders collect the data and bring back information, storing what's been found in an index, just like you'd find in a book.
Therefore, when you type in a phrase, "hotels in Bangkok" (for a hotel) - the search engine selects the keywords and looks for it in the many indexes its compiled and returns a popular list of results.
Similarly, with the meta search process – the search engine works like the ones mentioned above - taking the search term, placing the query and returning a summary of results.
For example – search "hotels in Bangkok"… and you'll get a list of hotels ranked according to relevance and also whether the hotel is paying a fee to be listed at the very top of the listing … The results are then summarized and offered to users as a "snippet" (short description), according the name each of hotel that's been found.
In theory, the process should offer a balanced (unbiased) answer to the users search query.
META SEARCH – WHAT IT IS ?
The meta search platform (for hotels) is therefore a search tool that queries other search platforms, and their data to produce its own list of results.
So… for a hotel search as in the example above, you will get rates and availability information from the hotel itself, its agents or other distribution channels the hotel uses.
But more than that, the meta search platform offers information that's useful to users in shortlisting their choice of hotel such as: rates, availability, location, amenities, user reviews and star ratings.
By pulling the results from a number of sources, presenting the information in a succinct, and easy to use format - not only reinforces the idea of a balanced and fair representation of data but also ensures the Meta Search platform has an important place in the travel journey planning process.
METASEARCH & ONLINE TRAVEL AGENTS – DIFFERENCES ?
Offers information from different sources on to one platform, providing a clean, easy to use, comparative interface, short cutting the search process of browsing through many individual websites.
When the user has selected a hotel from the list of results, they will be directed to a booking site of choice. The meta search platform, simply compares and summaries hotels and directs users to the booking site holding information that's important to them.
In most circumstances - Meta search sites use a pay per click business model to help boost the hotels page ranking in generic search results. They do not charge a commission to the hotels but instead charge the booking site (which of course can be a hotel or agent site) directly for clicks or visits sent to them on a cost-per-click (CPC), pay-per-click (PPC) or pay-per-acquisition model. (PPA).
ON LINE TRAVEL AGENCIES (OTA's) :
By comparison – the OTAs is an online Travel Company whose website(s) allow users to book directly with them for individual or a combination of various travel related services. 
OTA's are 3rd party agents reselling trips, hotels, rental cars, flights, vacation packages etc. that are provided and organized by others. Online travel agents include some of the largest travel sellers in the world. Instead of providing one-on-one consultation and service, online sellers focus on allowing users to create their own trips as one-offs or package deals. 
This unique marketing approach is something that many independent hotels can't offer on their own and makes OTA's so special.
OTA can also use the database of major CRS – Common reservation systems, or even those of the Global Distribution Systems or GDS to boost their list of available inventory.
TOP 5 PLAYERS
Trivago
Kayak
Skyscanner
Google
TripAdvisor
On-Line Travel Agents :
Expedia
Priceline
Orbitz
Travelocity
Yahoo! Travel
WHY HOTELS SHOULD CONSIDER META SEARCH :
a. Whilst similar to the OTA – Meta Search offers a broad range of real-time availability, pricing and Instant booking options from several supply and distribution channels (OTA's, GDS, Travel Agent or the Hotel Directly);
b. Meta Search enables the user to Rate Shop their choice of hotel easily and quickly by comparing the information fed-back through its listings;
c. Meta Search fulfills the key pre-requisites users need to short-list their prospective hotel - such as:
c.1. Location Informationn
c.2. Hotel Information
c.3. User Reviews
c.4. Real-time Dynamic Rates and
c.5. Availability
One of the biggest misconceptions, is that the meta search platform should be used as a distribution channel, which you can 'set and forget'. The popular belief is that once the hotel is enabled on a meta search platform, like Google or TripAdvisor, then the job is done and the bookings will come in on their own.
Meta-search is not a distribution channel, nor is it a 'set and forget' marketing platform.
It is, in fact, an online advertising format that requires real-time room availability and pricing feed. This new advertising format requires daily spend and bid management, daily reaction to what other advertisers are doing, constant monitoring of budget spent daily and monitoring of rate parity (that is often abused by the OTAs).
Meta Search platforms provide an effective tool for hotels to carry out their sales strategy and co-ordinate different campaigns across their supply chain with real-time inventory and dynamic pricing.
Because Meta Search provides a summary of the results it finds for different hotels in a generic or targeted search – the hotel can offer dynamic pricing to list their most up to date rates or packages within search results. And they do this with the Pay-Per-Click model – which allows them to choose their search result and listing prominence in response to changing marketing dynamics.
Consider why the on-line user would want to go to an OTA website when they can get all of their information for an intelligent hotel purchasing decision (eg. hotel location, hotel information, user reviews, and real-time availability and pricing) on one platform such as Google's Hotel Finder, TripAdvisor, Trivago, Kayak and so on?
Meta Search opens the way for hotels and their users to rate shop across different sales channels and at the same time allow them to review testimonies, check location, star ratings, amenities etc … to make better informed decisions.
Meta-search is therefore a great marketing tool to help shift the hotels share from the OTAs to the hotel's own direct on-line channel.
CONCLUSION :
Meta-search marketing can be a strategy tool for hotels to help their guests and users in their preliminary travel journey planning process.
Whilst Meta Search not does guarantee direct bookings, it does promote it with its dynamic rates and availability platform allowing the hotel to compete with OTAs.
A distribution strategy - involving the value proposition offered by both Meta Search and Direct Bookings together with the marketing reach of On-line Travel Agents, will help ensure a better more sustainable revenue mix over time.