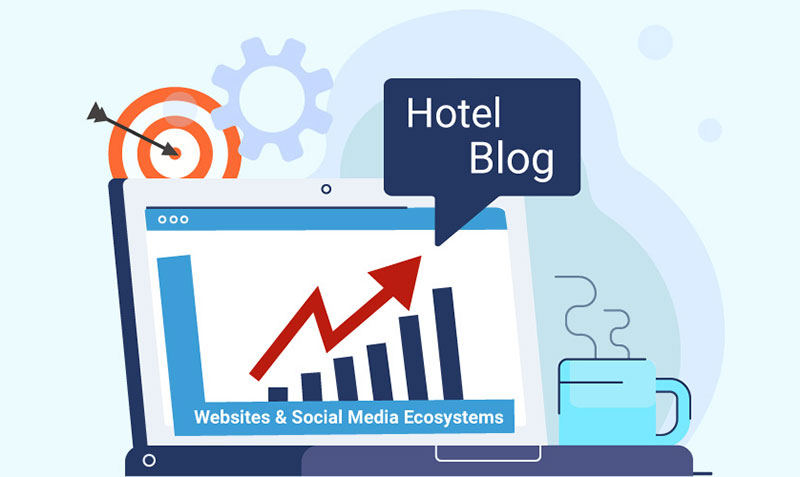 Does your hotel need a blog ?
A blog is a "weblog" or journal with information about something that's topical or important to you or those around you that you want to share. Blogs are journal writings or recordings, intended to broadcast to a wider audience, in a time format with latest posts showing first.
IT'S PURPOSE
There are many reasons to blog whether for personal or business reasons.
As a business, you rely on customers using your products and services and with the Blog – you can use it to help keep in touch with customers and remind them to keep coming back to you, as well as to reinforce the message about what you do, what you offer or the promise about your Brand.
No matter how important the Website is, it's only a Digital Store Front that most of the time remains "static". Blogging offers a way to update the information about you. Its designed to give audiences a fresh perspective and "peak their interest" and importantly the interest of Search Engines.
To that extent - it should be said that search engine algorithms have been designed to seek fresh and up-to-date information about you or your services. The more timely and relevant, the better. So it goes without saying, the Blog has become useful and relevant in today's digital world.
BLOGING STRATEGY
For a hotel, writing a blog for the sake of off-loading ideas to keep information current on your website defeats the purpose. Hotels need to adopt a clearly defined strategy about what they want to achieve.
5 REASONS TO MAINTAIN A BLOG :
It should come as no surprise that a blog improves your organic SEO.
This is because search engine algorithms have been "tuned" to look for fresh content within static websites.
Typically, the hotel does not need to update the general everyday brochure information, but should keep a "window" open to fresh news and happenings.
Bear in mind that many things contribute to search engine ranking, so thinking that starting a blog will automatically put you on top of the search engine for keyword search terms is false economy.
The Auto-Bots (search robots) that go out and fetch information for indexing, will read through your website and identify sections that are refreshed or updated. A cleverly worded Blog with images and links-out, can help search engines to index more easily the new information about your hotel in order to present to their Readers.
It's a proven fact that people respond well to fresh content.
Your Blog should complement and serve as an "echo chamber" for other Social Media ecosystems used to get your message out. The Blog also serves as a repository (library) of news and news worthy information which you released from time to time, which you store on your main Blog page in date order (about your hotel)
Whenever you upload a new Blog, release the same information on other social media platforms to compliment and make a bigger impact. Sharing and cross-linking information within wider social media circles - such as Facebook / Twitter or Linkedin, drives social traffic back to your Blog and Website to ultimately enhance SEO rankings.
The complimenting strategy works like this …. because the news or new worthy information on the Blog lives on your website - you want to create a "feeder" or "vehicle" (and in this case a cleverly worded paragraph with anchor text and links) back to your main Blog Page from Social Media.
The paragraph should be no more than 2 - 4 sentences offering "snippet" information about what's new or news worthy. The text is worded using "catchy" terminlogy and language designed to entice the visitor browsing through social media by clicking the link back to the Blog page. The feeder paragraph is released on any one of the social platforms you use such as Facebook / You Tube / Twitter / Line / Linked-in etc …
The Blog Post used together with Social Media Platforms is an effective way to boost and compliment your wider Social Media and SEO Strategy.
Devoted hotel guests, loyalty program members for example, can come to appreciate the Blog as a way to keep in touch with the hotel and its happening.
The trust and loyalty you develop with guests over time does can carry weight and is useful when promoting or launching a new products and services. Your Blog helps disseminate and inform your audience quickly and easily and in one spot for reliable penetration.
The Blog is a great opportunity to write or discuss information about the frequently asked questions posed by hotel guest. Let's face it, chances are that reservation and guest services may already be responding to the same handful of questions every day.
Questions about what there is to do or see, recommended restaurants, or getting around outside your hotel are perfect topics for a dedicated Blog. Not only is the information useful to someone considering staying, but it's also an "easy link" to share with confirmed guests interacting with your team by email.
If your website has plenty of content, don't expect your guests to drill down into the website to find something new or useful. The average guest isn't particularly interested in searching for information, inspiration, or ideas.
Blog's can be useful for creating awareness of the more unique aspects of your hotel or where to find them in your website (e.g. destination guides, spa treatment menu, excursions, bespoke experiences),
As the information is not easily found or commonly visited - a Blog can be a useful way to highlight the information and drive interest groups to them.
RULE OF THUMB
You can use the RSS news feed application (subscription) to update your audience and followers about new or news worthy information being posted to your Blog Page.
The other way is of course, the "feeder system" which drives viewers back to your Blog Page from other social media sites - we discussed above.
Blogs should be updated often, but not too often to "jade" your public with too much information. Personal Blog journals can be updated once a day but for a business - once every other day, bi - weekly or weekly is sufficient. Don't bombard your followers with too much information that can make the blog irrelevant over time.
For SEO purposes - It goes without saying that content must be relevant, original and offer quality information that's sufficient enough to be indexed by the search engine. The blog should include at least an image and one or more links back into the corridor of your website (or social media page) with a relevant keyword anchor text - pointing the way.
FINAL WORDS
At a time when powerful OTAs are dominating the internet and taking market share away from your direct booking channel, driving direct traffic to your website has never been more important. Blogs have become a useful and powerful tools for the digital and social ecosystems we live under.
For past and potential new guests' – Blogs can provide an informal yet useful way to engage and provide information about the hotel, the destination, offers or promotions, to become important touch points you have with the respective communities you deal with. Blog's can be easily maintained, should be part of the social media strategy and wider Marketing and Sales Campaign strategy to bridge the gap between Static Website Pages and the On-going Live New Feeds coming from your hotel.