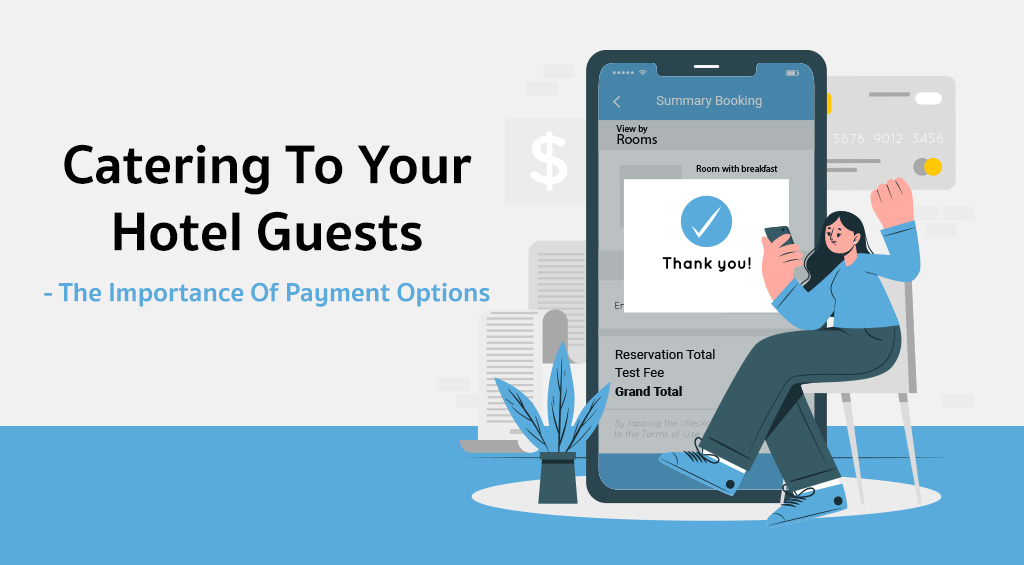 Catering To Your Hotel Guests - The Importance Of Payment Options
In today's globalised world, the hospitality industry must cater to the needs of a diverse international clientele, especially those coming from Asia. According to a report from the Ministry of Tourism and Sports, the top three countries with the highest number of tourists visiting Thailand are Malaysia, China, and South Korea.
As payment methods evolve, hoteliers need to be able to offer transactional services that closely align with their guests' expectations. There are many Payment Methods available to choose from and each provider claims to offer an easier or more convenient way to settle financial transactions then their competitors. What's also unique in Asia, is how companies are building a customer base by appealing to cultural and lifestyle nuances, unique to the markets they operate.
Hoteliers should consider adding new payment methods that are popular with certain demographic groups especially if they have a preference to use them to pay for accommodation and other services. The sales conversion process will always be easier if there's more choice in the number of providers your guests can choose from. The more options you provide, the less likely your guest will go somewhere else to make their purchase.
In this blog, we look at popular payment methods used in Asia and the benefits offered by providing more choices to guests'. We also discuss how CM Pay – in partnership with OPN Payments can make it easy for your hotel to offer the types of services that align with guests' expectations.
POPULAR PAYMENT METHODS IN ASIAN COUNTRIES:
As mentioned earlier, a large number of tourists visiting Thailand are from Asia. While offering different payment options is essential, we should note that "more" choice doesn't always mean better choices. Analysing your target audience and researching the commonly used payment option relevant to each country, can help you focus on providing the service your guests' prefer.
Here's a look at some popular payment methods in Asian countries:
China
In China, the dominant payment method are Alipay and WeChat Pay. Both are digital wallet platforms that enable users to conduct transactions directly from their mobile devices, and they account for more than half of all online transactions in China. These platforms offer a convenient means for Chinese tourists to make payments both online and in physical stores during their travels.
Japan
Japan remains largely reliant on cash transactions, but there is a noticeable shift in online payment methods. According to a 2022 survey conducted in Japan, cards have emerged as the primary choice for online shopping and digital financial transactions. Popular credit card brands include Visa, JCB, and MasterCard.
Malaysia
The most popular payment methods in Malaysia are bank transfers, credit cards, and e-wallets with the most commonly used e-wallet being Touch 'n Go. It's important to note that credit card penetration rate is relatively low in Malaysia, according to the World Bank. Therefore, if you have a high number of Malaysian tourists, it may be worth having alternative payment methods like e-wallets to enhance convenience and accessibility.
Singapore
In Singapore, the most commonly used online payment methods are credit cards and e-wallets. According to FIS Global Payments Report 2023, credit cards were used in 42% of e-commerce transactions, with digital wallets closely following at 32%. Singapore also has the highest debit and credit card penetration rate in Southeast Asia, with credit card ownership rate at 41.7%.
South Korea
In South Korea, the level of card usage is high, averaging approximately 6.7 cards per individual, which accounts for 70% of all transactions. In addition to card payments, online banking and e-wallets are also widely used for e-commerce transactions, with KakaoPay being one of the popular e-wallet options, making it a convenient option for South Korean tourists.
THE BENEFITS OF PROVIDING MULTIPLE PAYMENTS:
Higher Conversion Rates:

When it comes to making online reservations, guests appreciate having choices. According to Baymard Institute, 11% of online shoppers will abandon their carts if the checkout lacks their preferred payment options. By providing multiple payment options, you can increase the chances of customers completing their booking.

Increased Customer Loyalty:

Certain guests may prefer specific payment methods due to their convenience or the associated loyalty programs. By offering your guests their preferred payment choices, you enhance their overall experience, which can translate into increased customer loyalty over time.

International Customers & Their Expectations:

In an age of international travel, hotels often welcome guests from various corners of the globe. To cater to these diverse customers effectively, it's essential to offer payment options that are familiar and convenient for them.
MULTIPLE PAYMENT OPTIONS - CM PAY AND OPN PAYMENTS:
CM Pay in partnership with OPN Payments can offer your hotel greater flexibility when it comes to payment processing. The multi-channel payment solution offered through CM Pay provides more choice to guest when paying for services. Implementing a Multi-Channel payment solution can enhance the sales conversion process and lower the number of booking cancellations whilst improving guest satisfaction.
Hoteliers can choose CM Pay from the Channel Manager platform. CM pay is a turnkey solution because its already synchronised with OPN Payments through an API gateway. CM Pay together with OPN Payments is a one stop solution for all your hotel payment needs.
DEPLOYMENT:
Start by activating CM Pay through the Hotel Channel Manager. You will need to complete a sign up formality with OPN Payments but once that's done, you can choose the payment method you'd like to use and start accepting payments. For credit and debit cards, OPN Payments will allow you to accept payments in multiple currencies, simplifying the booking process for international guests. OPN Payments also supports a wide variety of e-wallets across Asia, including WeChat Pay, Alipay, KaKao Pay, and Touch n' Go.
Providing greater flexibility and choice through multiple payment channels will undoubtedly enhance your sales conversion process and lower the number of booking cancellations.
For more information about OPN Payments and how it can benefit your hotel, please visit Opn Payments website.